Growing cut and come again crops in your garden
Planting cut and come again crops means you will reap a consistent, bountiful harvest all season. Many of these giving crops will also act as companion plants in your garden and provide your friends and family with season-long nutrients.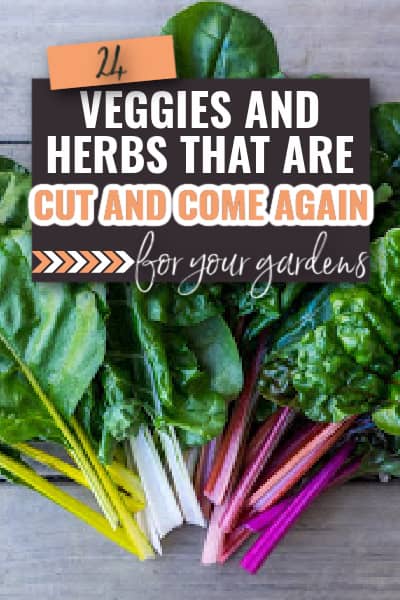 24 vegetables and herbs that are cut and come again crops, providing a season-long harvest from your backyard garden.
Vegetables
If you're going to plant a garden, why not plant crops that will bring a season-long with little to no extra effort? Whether you're part of a larger family or not, knowing what these crops are can be a penny pincher.
Cut and come again vegetables
Arugula: A staple in our garden every season, we grow arugula for our rabbits. I only enjoy young arugula leaves as their taste is less bold at that point. Once our arugula mature, the rabbits reap the harvest. This vegetable provides happiness for all members of the homestead.
Kale: This hardy green survives low temperatures, making it a great option for your cool-weather gardens. When the weather warms up, your kale may take on a more bitter taste. While cooler weather promotes a sweeter, crisper taste they'll both provide nutrients. Kale has always been easy to grow so we plant it every year!
If you prefer raw kale, start seeds indoors. You can transplant in the Spring and harvest until the weather warms up. If you provide shade, then once it cools down again you can start harvesting another round of kale If you live in a warmer state, you can also sow seeds directly! Harvest this hardy crop while they're only inches tall.
Lettuce: Loose-leaf lettuces are the best for extended-harvest options, picking just the outer leaves. My preference is any neutral romaine variety! You'll harvest head lettuces all at once, cutting off the head with a sharp knife. Loose-leaf lettuce will also mature sooner than head lettuce. This gives you a steady supply of fresh salad greens all season. If you plan for an abundance of lettuce, be sure you know how to properly store and preserve your lettuce.
Swiss Chard: This versatile crop is a great candidate for your backyard garden. Swiss chard thrives in cool weather like kale or arugula. For a more heat-tolerant variety, try out Lucullus in your souther garden. These beautiful green leaves and red stalks are sure to add a pop of color to your crop.
Collard Greens: One of my most favorite crops, this southern green is a dutch oven and crockpot favorite. As kale does, collards will grow more bitter the warmer is gets and sweeter the cooler is it.
My favorite way to use bitter collards is to slow cook them. Add some ground pork, bacon, garlic and onions in a dutch oven until tender. Top with hot sauce and sour cream and enjoy!
Mustard Greens: Mustard greens aren't as cold hardy as kale and arugula. Though they still hold their ground on the cut and come again vegetable list. For a steady supply of mustard greens, make sure the soil doesn't dry out. You can mulch around these greens if you're a forgetful water-er.
Spinach: Bloomsdale spinach is my favorite cooler weather variety. For warmer-weather we grow New Zealand Spinach (NZS). Both these varieties will provide a bountiful harvest for months. If you're planting NZS in a raised bed, leave room to grow. NZS likes to spread out and take over, but can also be grown in containers.
Turnip Greens: This versatile cut and come again vegetable is grown for its roots and leafy tops. Don't completely cut off their green tops as root growth will stunt and stop. This plant grows best in late summer for a fall/winter harvest.
Beans: Beans are fun vegetables to grow and a great succession plant. Producing beautiful white flowers that turn into pods, they give a sweet, crisp flavor. Whether you're growing bush beans or pole beans, once you cut the pods off you'll find new pods come and replace them.
Prop-tip: Be mindful when harvesting your beans. You want to snip them right at the start of the bean. I use these mini hand snips to harvest my crops! This way, I don't do any damage harvesting by hand.
Okra: Harvest these warm-weather pods when they're small and more tender. Okra pods start as beautiful flowers that turn into edible okras. I like to cut and fry my okra. For a low-carb version of fried okra, try using almond flour and parmesan cheese for the breading!
Peppers: I grew peppers for the first time in my Summer 2019 garden and had jalapenos for months. Actually, when we tore the plant from the ground in March they were still producing! Jalapeno plants take the cake for cut and come again status. I grew poblano peppers in my 2020 Spring/Summer garden with the same result.
Summer Squash: Yellow and green squash are another staple among our summer crops. Did you know squash is botanically a fruit?
Zucchini and yellow crookneck squash are best harvested young before their seeds completely form. Winter squash varieties are harvested once mature, fully formed seeds and all. Once you see flowers, keep an eye out for yellow squash and zucchini! It's not unusual to end up with a zucchini the size of your arm because you forgot about it for a couple of days.
Tomatoes: Also botanically a fruit, tomatoes are star plants for a cut and come again garden. I actually don't love eating tomatoes raw. I do have two varieties in my garden this year to accompany the peppers for my salsa garden! And I'll admit to adding a slice to the occasional tuna melt.
Cucumbers: Cucumbers, like squash, grow quickly once you see them start to flower. In my experience, cucumbers will also take over the garden. Be sure to support them with a quality trellis because they'll get heavy!
Herbs
The majority of herbs cut and come again. Some herbs are even, perennials which I cover a little further down the page. Here are a few herbs to grow in your non-perennial garden this year.
Cut and come again herbs
Cilantro: We eat a lot of tacos in our family so cilantro is a staple in the garden. If you stay on top of harvesting cilantro, it will come again and in full force! Cilantro is also a wonderful pollinator plant, making it a bonus.
Basil: I haven't grown a lot of basil but it's on my bucket list. My in-laws always have a steady basil plant for fresh pasta dishes and such. Another great candidate for a steady harvest.
Parsley: Thriving in moist, rich soil and cool weather, parsley is often seen as a garnish on restaurant plates. If you plan to plant this cut and com again herb, keep in mind they're slow to establish but worth it when they do.
Thyme: I use thyme most often around the time of Thanksgiving. We prepare our turkey by smothering it in butter and topped with thyme, sage, salt, and pepper. Like parsley, thyme likes moist, rich soil but actually loves the heat! Protip: Thyme is a great pollinator plant. Consider planting them in a container near your vegetable gardens!
Marjoram: Plant marjoram in full sun with well-draining soil. This herb is a great companion plant for corn, onion, peas, potatoes, and radishes. AND a great pollinator plant, attracting beneficial insects to the garden all season. This cut and come again herb will die in the frost but thrive in the heat.
Perennial herbs for a season-long harvest
Sorrel: Best grown in the warmer months, sorrel is a great cut and come again herb for your perennial bed. Sorrel is often grown and used to aid in reducing inflammation of the nasal passages. It's also known to be supportive for the respiratory tract and treating bacterial infections.
Borage: This wine-ing perennial produces beautiful blue flowers, giving it the name "starflower". Use borage raw in salads, soups, drinks and cocktails, or jellies, jams, and preserves. Additionally, this cut and come again herb is a wonderful pollinator attractor. Plant borage by crops such as strawberries and blueberries to increase fruit production!
Rosemary: Rosemary is the mother of cut and come again crops and one of the hardiest herbs I know of. My mother actually has a rosemary bush around 15 years old at least. She's brought it with her from house to house, in the same terra cotta pot, ever since I was a young girl. Following in her footsteps, I've started my own huge rosemary bush to keep through the years!
Oregano: Another drought-tolerant herb, you can grow oregano in pots or beds. In fact, you only have to water these plants in excessively dry periods. Low maintenance, drought-tolerant, and cut and come again.
Mint: An herb that smells and tastes wonderful, mint will absolutely take over your garden. It's also hard to kill making it the perfect crop for an extended harvest. One of my favorite ways to use mint is to put it in a gallon of water with some fresh, sliced cucumbers.
Summary on cut and come again crops
Do you make it a point to grow cut and come again crops in your gardens every year? Maybe you're planning a victory garden and would like to reap the benefits for months to come. Drop a comment below and let me know what you're growing this season that you'll be able to enjoy for months!
More on growing vegetables: