How to earn an extra dollar this holiday season
This time of the year we're all spending our last buck on buying those Christmas presents and could stand to earn an extra dollar. Here are 7 ways to earn extra money this holiday season!
7 ways to earn extra money and how to earn extra money this holiday season.
Wouldn't it be nice to generate a little extra income this holiday season? I was sitting around the other day thinking "If I wanted to, how could I earn a few extra bucks?". I thought my thoughts might be good to share with my readers. Don't forget to let me know how/if you earn an extra dollar during the holiday seasons!
House sitting and pet sitting to earn an extra dollar!
People go out of town for the holidays, that's no surprise. House sitting and pet sitting are great ways to bring in a little extra cash during the holidays. You can often find people who just need you to water a garden to house sitting in order to pet sit inside their home.
If you have the land, and animals that agree with "outsiders", you could always petsit inside your home (although this is a little riskier). When it comes to house sitting and pet sitting, you can be paid by the day or by the hour.
This could be an easy task that doesn't have to be time-consuming to make the money flow this holiday season.
Yardwork
This is often on the lists of how to make more money, and I believe I even added it to mine, but I have something else in mind when I say "yard work" this time. We have our Christmas dinner outside at a big picnic table near our outside kitchen.
Throughout the year, the kitchen isn't used as much as it should be so I have to do a deep clean once the season rolls around. I also always clean up the yard before the family gets into town.
I don't exactly mean mowing the lawn and the usual stuff, but moving around furniture or picking up pieces of stray lumber that didn't make it back to the designated location.
This would be a great way to earn an extra dollar and, if I wasn't a stay-at-home homesteader, I might consider hiring someone to do all of this for me!
Decorating is also a fun way to earn an extra dollar this holiday season!
I assume this could actually be a year-round way for you to earn an extra dollar. People in large houses seem to love to decorate, and I don't mean that in a "judge-y" way!
I only decorate for Christmas right now but I know people who decorate for many holidays. If you have a creative mind, you could offer to help families decorate for the holidays! This could range from activities such as hanging Christmas lights outside to garland indoors. '
If you live in a big city, I bet this would be a "big ticket item". Maybe you live in a more rural area and know elderly folk who would like to decorate for the holidays but aren't able to do it all themselves. You could start a holiday decorating business in your county! I have to admit, it doesn't sound like the worst job idea ever…
Christmas tree help
Every year I look forward to picking out a Christmas tree with my husbands family. Admittingly, there's always some slight chaos or mutual disagreeing throughout the group but it's always fun in the end. My least favorite part is putting that tree up on the roof of the car…thankfully my father-in-law does it, but still.
If I was ever alone I would be so out of luck! I know sometimes Home Depot has a designated person to help with Christmas tree loading, but maybe you live in an area with local Christmas tree farms? Or maybe you could hire yourself out as a sub-contractor through Craigslist.
I have to admit I didn't think of the exact details to this one, but I just know there is potential!
Gift wrapping
Extra, extra read all about it! "It" being earning an extra dollar in a pretty easy way! Multiple kids, last minute parents, people who really hate gift wrapping – offer this service! Every single year there are gifts on Christmas Eve that need to be wrapped last minute and someone always ends up pulling an all-nighter to do it.
You could offer to come over and wrap gifts so this doesn't happen! Maybe you could even get the "okay" to set up near a mall or Walmart with a table and wrap gifts for a fee out there! Of course, you'd probably have to be pretty quick. You could be the girl scout of Christmas presents wrapping!
Running errands
Just as the gift wrapping goes, something doesn't get done, it never fails. For last minute trips to the grocery store or to pick up a gift being shipped to your local superstore, you could earn a buck for that.
There are already apps for grocery delivery, such as Instacart or Shipt, so if you're wanting to earn an extra dollar this holiday season you could sign up with one of those providers or even find an opportunity through Care.com (which is also great for house/pet sitting opportunities!).
Babysitting
Babysitting is ALWAYS on the list because somebody always needs a babysitter. Hopefully, they aren't having you baby on an actual holiday, but how about while parents are shopping for said holidays? You could be the holiday babysitter.
This is really straight to the point and, as with house/pet sitting, you can find these opportunities on Care.com. With babysitting, you can charge by the day or by the hour. You just might come out with a more regular "gig" throughout the year.
Another great thing I was thinking for holiday sitting is it wouldn't have to be a huge time commitment type of this. It seems that families like that get their holiday shopping in one long day or two unless they slowly shop throughout the year. In reality, I'm not sure I've ever met someone who does that!
7 ways to earn an extra dollar this holiday season
Holiday sitting of any kind can be a great way to earn an extra dollar or two. Whether it's helping with the larger-than-life grocery bill or super cool bicycle for your niece.
I bet there are 1,000 other ways to earn a few extra dollars! I'll just keep adding to the list when I think of more! Do you do anything to make extra money during the holidays?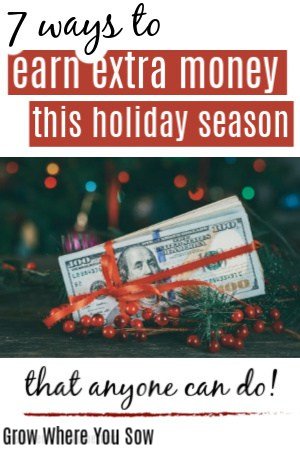 More on holidays on the homestead: