Rainy day on the farm activities
Have you ever been sitting around wondering what to do during a rainy day on the farm? Believe it or not, it was pouring down rain the other day here in Florida (shocker, I know) and I thought of 55 different activities for a rainy day. Here we go!
55 activities for a rainy day on the farm for every homesteader.
Bake fresh bread during a rainy day on the farm
This is one of the best activities for a rainy day, or any day really, and that's why it's number 1 of 55! Not only does baking bread make your house smell delicious, but it also gives you a yummy snack! You can bake bread from scratch, kneading the dough yourself, or bake it from scratch using a bread maker! You'll still have a nice aroma and yummy snack for later. MY best friend has a bread maker like this one and she makes the best loaves I've had!
Create a weekly schedule board
I have a DIY weekly schedule board in my room with different activities I can move around on it, fastened to the board with little velcro circles. I used some fun, colorful markers and a simple poster board! The whole project was inexpensive and fun to make and it's a huge help when I actually use it. If you're not creative, you could just get a nice planner and schedule your week that way!
Work on overdue home projects
If you don't have any home projects that are overdue, I wanna hear from you! I constantly have projects that need to be done. For example, I've been planning to paint my kitchen for months now. The next rainy farm day I have I hope to start on these activities!
Do all your laundry.
There's really no reason not to catch up on some general house chores like doing laundry. Maybe it'll allow you a head start before the weekend and free of time to do other activities! Ever since I started using Method laundry detergent, I look forward to doing my laundry. This stuff smells delicious!
I switch off between my Method detergent and homemade powder detergent since I'm on septic…also the Method fabric softener is the best. When you live in a farm home, it's really easy for things to try and get stinky so I also use the Ginger Mango dryer sheets. My closet smells tropical, always.
Deep clean your house!
This is my favorite. Cleaning my house is one of the most enjoyable things I do. It's odd, I know, but there's something about the instant gratification of something that was once dirty, being clean.
Meal planning/prepping
Maybe you've been wondering if meal planning and meal prepping is right for you? Well, that's a good activity to try your hand at when your yard is turning into a lake. I know this by experience… Rainy days on the farm = meal planning activities. I just bought these wonderful, glass meal prepping containers. They've made it even more fun to prep my meals for the week!
Purge Your House
There's never a bad time to do this, just like baking bread. When it's raining, it's an even better time. For starters, it feels good to get rid of things and it can give you a sense of use on such a rainy day. My fellow homesteaders and blogger, Erin, at The Tannehill Homestead have some great tips for decluttering. It's kind of her specialty!
Reorganize
So you've purged your home? Let's get to organizing! I organize something in my home every week, my favorite spot being the kitchen. Reorganizing makes your home a little more user-friendly. I also find that reorganizing every now and then gives you a sense of "new".
List items on Ebay
I've made a small amount of money this year so far selling things on Ebay that I didn't want anymore. Rainy days are a great time to start an activity like this because you have time to properly post the items with great pictures and descriptions! Every little bit helps!
Watch your favorite movie
Not in the mood to heat up the house baking or going through your home, yet again, to get rid of things? No problem! Sit down, take a load off, and watch your favorite movie! As a farmer and homesteader, I will say that I can really enjoy time to sit down to watch my favorite movie. You don't HAVE to constantly be doing activities on your farm that are furthering your sustainability, especially when it's raining.
Set up a fun dinner like tacos with all the toppins'!
Maybe you don't mind heating up the house? In that case, after you bake your bread, whip up a delicious taco bar! Even better yet, you can bake some dessert bread, make tacos for dinner and eat them while watching your favorite movie. NOW we're talking about rainy day farm activities!
Start a blog
I officially started my blog on a rainy day. Actually, it was a rainy week! I'd been mulling it over for a while so those few rainy days provided me with enough time to really get things up and going. I'm so happy I made the jump!
Start a homesteading journal
Maybe you don't want to start a blog, that's fine. But I do believe that everyone should have a homesteading journal. In your homesteading journal, you would write about things like, well, the weather! This way over the months and years you can see patterns in months, and try to guess what to expect.
Organize your shed
Just because it's raining it doesn't mean you can't grab an umbrella, walk to your shed and hang out in there a bit. Actually, it could be the best possible time to do it! I'd rather stand in my shed for an extended amount of time while it's raining than when the sun is beating down hard. I guess this comes down to opinion as far as activities to do on the rainy days on the farm.
Call your family members
I have a long line of family members that I don't call nearly enough. There's really no excuse not to call someone when you're stuck inside on a day when there's just rain to expect. Rainy days are often my go to days to catch up on calling, emailing, etc. That's not saying I'm perfect at it…sometimes I just want to relax and watch my favorite movie.
Plan next season's garden!
Who else spends more time than probably needed planning next season's garden? I use this garden planner and it keeps me so busy because it is so fun to use! While you're planning next season's garden, you can eat a piece of your homemade bread or plan while watching your favorite movie! Either way, it's a perfect rainy day activity on the farm.
Gather your thoughts on future projects
This one is simple really! Make those lists of future farm projects you'd like to achieve. Done and done.
PLAN future projects!
So now you have your thoughts and the next step is planning those projects. Rainy days have provided me time to plan a blueberry patch, a medicinal herb garden, and many more.
Plan everything…
Plan your life, your next day, what you'd like your next year to look like. You can plan everything and anything on a rainy farm day, including your next activities for non-rainy days! I use something like a bullet planner to write down my hopes and dreams.
Sew something
If you don't sew, then a rainy day is a great day to start this activity. Definitely one of my favorites! Order a sewing machine and be ready for your next rainy day!
Make Rain Chains
Have you ever heard of a rain chain? If not, you can look at this great article to read about them! Why not spend your rainy day making rain chains for the next shower? You could even sell them!
Browse the sales sites
Are you sitting around twiddling your thumbs after planning all those future projects? Do you need supplies on the cheap? A rainy day on the farm is a perfect day to browse sites like Craigslist, Nextdoor, Facebook Marketplace, etc. for discounted materials for all those activities you just planned! If you can't find the supplies you want or not there, remember to activate a cashback plugin like Rakuten to earn when you spend! I make around $40-$50 a year from Rakuten!
Try a new recipe!
I'm sure you caught on, but I love baking when it's raining outside! You'll find countless recipes online so there's really no way to get bored of this one.
Take a bath
When do you ever have time to take a bath between running the farm, maybe working, maybe raising children, etc.? Try taking a bath while it's raining and everyone else has chosen activity from this list. Grab you one of these great trays and CAREFULLY watch a movie while you're in the tub!
Move ya body!
That's right, I just suggested working out! Stretching and yoga is also a great way to get your blood flowing. You don't have to do an intense workout to get your body moving.
Purge your computer files
You'll feel way better, and so will your computer after you get rid of the clutter.
Purge your pantry
Pairing this idea with meal planning is a great thing to do! You might be surprised at what you find you forgot stuck in your pantry. Plan a few soup nights or popcorn nights! Whatever you might have tucked away.
Heck, purge your fridge!
Do you REALLY need that 5 year old jelly jar that's been molding?
Color
I have a few "adult coloring books" (not inappropriate) that I LOVE to use. Buy my favorite one HERE! I also really love this one because, well, sunflowers.
Refine your budget
I recently learned of EveryDollar and started using it. It's a great budgeting tool and also makes a great rainy farm day activity because the initial startup can be time-consuming. BUT WORTH IT!
Create Essential Oils Blends
You may or may not know that I LOVE Simply Earth Essential Oils so creating new blends is one of my favorite rainy day activities. If you want to try their amazing Essential Oils Recipe Box, use my code TGAHFREE for a $20 gift card!
Try to make your own makeup!
I haven't tried this out yet but I would if I needed to. There's plenty DIY makeup ideas on Pinterest, do it would never get boring.
Try making your own makeup remover!
A lot of people simply use coconut oil and essential oils for this one. Be sure you keep in mind your type of skin and any irritations you might have when looking for a recipe.
Watch some great farming documentaries
Netflix, Amazon Prime, Hulu, anywhere really! My most recent favorite documentary is "The Biggest Little Farm". I've seen it twice so far and feel inspired and motivated every time it ends!
Catch up on canning/preserving your harvests
I've burned many hours blanching and freezing carrots. If it's the summer season and your gardens are flourishing, this is a great rainy day activity on the farm.
Fix your farm tools
Throughout the year, bolts get loese and things break. Sometimes all you need is some oil and a good wrench!
Sharpen your farm tools
Every farm should be doing this periodically, especially if you have fruit trees. Getting a nice, sharp cut when pruning your plants decreasing the likelihood of disease.
Clean your farm tools
Just as sharpening your farm tools is important, cleaning your tools is even more crucial. Spreading disease is easy to do when planning a sick tomato plant and then a healthy one with the same sheers. Be mindful and always clean your tools after a session of trimming a sickly plant.
Take just oneeeee more peek in that seed catalog!
I shop at Baker Creek Seeds and it's dangerous to sit down with a seed catalog. But, hey, it's a rainy day on the farm and why choose a different activity?
Get a jumpstart on holiday shopping!
That $40-$50 dollars I made with Rakuten was mostly from Christmas shopping last year! If you have some money put away, you can get a head start on your Christmas shopping. You might be able to save a few bucks with sales!
Watch the ducks jump in their puddles
My husband loves this one. We can sit for hours on our porch watching the ducks play in the deep puddles forming in our yard.
Listen to music and RELAX.
Listening to music and relaxing shouldn't only be an activity for rainy days on the farm. Nevertheless, it sure is a good one!
Play in the rain!
This one is especially fun for kids, of course.
Shower in it!
If you know you're expecting a safe, lightning-lacking, long rain shower then I dare you to grab your bottle of eco-friendly soap and go shower in it. I LOVE showering in the rain. Be sure to wear a swimsuit, of course, if you have neighbors. Protip: I even clean my henhouse with that soap!
Take a nap
My personal fave. I love taking a nap and falling asleep to the sound of rain tapping.
Establish a new skin care routine
I use SE lavender and SE coconut oil on my face and LOVE it.
Establish a new self-care routine
Self-care and self-love are important and I elaborate WHY in this article. A nice rainy day on the farm makes self-love activities some of the best!
Create a recipe book
I believe my older sister has created a recipe book before. If you're like the women in my family and love to cook, why not jot down all the recipes you've created? Then you can put them to during the next rainy farm day.
Create a recipe
Who needs a pre-made recipe anyway? If you know the basics, try creating your own recipe. This might be easier with cooking than baking, but it's worth the try either way!
Read a book!
I love all my homesteading books and often take the opportunity on a rainy farm day to learn a few new things from them.
Color-code your closet
My favorite thing is when I walk in my closet and everything is organized by color first. It helps me choose what to wear that day!
Clean your boots
If you live on a farm like I do, you're probably already doing this often enough. Between the chicken and duck poop, my boots get pretty gross. Cleaning your boots is a great activity for a rainy day on the farm because you can save water by using the rain water to clean them!
Update your techy devices
Again, we're probably all doing this as we go. If you've gotten behind on updating your devices, a rainy day is a great time to catch up.
Wash your dogs
Lord, knows my dogs need a good scrubbin'! What do you do when it rains on the farm? I'd love to hear about any activities you have in mind and add them to my list!
Are you expecting a rainy day on the farm
These 55 activities are accessible to every homesteader. And they're fun, to boot! They might not work in the winter when the rain is scarce, but you can still try a few! What do you do with a rainy day on your farm?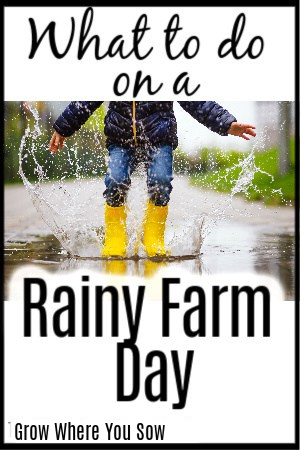 More on homesteading: