The Beginner's Guide to Backyard Homesteading (Book Review)
Disclosure: I received a copy of The Beginner's Guide to Backyard Homesteading for free in exchange for my honest review of its contents. Receiving this book free of charge has not influenced my ability to provide my honest opinion on the contents of this book. Additionally, this post contains affiliate links. By utilizing these links, I may earn a commission at no extra cost to you.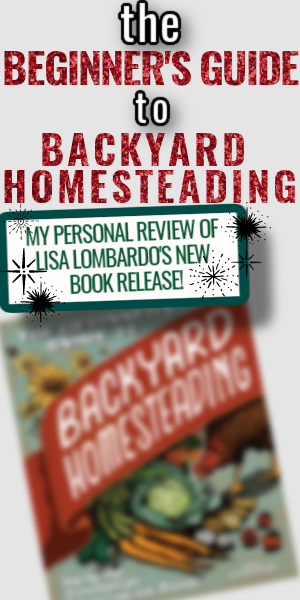 The Beginner's Guide to Backyard Homesteading book review
There are a lot of books about backyard homesteading. In fact, I own a few books that I absolutely love and think every homesteader should have on their shelf.
When Lisa from The Self Sufficient HomeAcre asked if I'd be interested in reviewing her book, I was over the moon! What homesteader doesn't want another book about homesteading, right?
After sitting down last weekend with this book, I can confidently say I am proud to have added it to my collection.
Although some of the information won't apply to me here in Florida, 90% of the information does. My fellow Florida homesteaders know how difficult it is to find information on homesteading in a climate where we can garden year-round but don't have root cellars to preserve our potatoes in. *rant over, love ya Florida*
I've broken down each chapter of The Beginner's Guide to Backyard Homesteading for you. Each chapter includes all the information you could need in order to start planning your homestead.
My personal favorite chapters (spoiler alert) are chapter 5, 7 and 8. I can not wait to finally learn to grow grain for my livestock, raise bees and get day animals!
Even after 4 years of homesteading, this book has lit my creative spark and made me excited about living this lifestyle.
Table of Contents for The Beginner's Guide to Backyard Homesteading
Introduction
Chapter 1: Basic Steps for Preparing Your Homestead
Chapter 2: How to Manage Your Homestead
Chapter 3: Vegetable and Herb Gardens
Chapter 4: Fruits and Nuts
Chapter 5: Grains and Livestock Feed
Chapter 6: Raising Poultry
Chapter 7: Raising Dairy and Meat Animals
Chapter 8: Beekeeping for Beginners
Chapter 9: Growing Beyond the First Season
Appendix, References, Index
Introduction of The Beginner's Guide to Backyard Homesteading
I know the saying is "Don't judge a book by its cover" but the real introduction to a book is probably the cover. When this book arrived in the mail, it was so appealing to the eye I wanted to sit down right away and read it!
Isn't that nice? The cover has a homey, vintage feeling making homesteading feel like it's something we're meant to be doing. Lisa does a wonderful job in the text introduction explaining what you should prepare yourself for in regards to starting a homestead and what you'll find in the rest of the book.
Honestly? If she would've said in the introduction that this was a backyard homesteading all-in-one for dummies book, she would've been absolutely correct.
From helpful checklists to step-by-step instructions and budget breakdowns Lisa sets up an inviting, understanding yet instructive tone to guide you through the potentially overwhelming waters of homesteading.
Beginners are often tempted to try everything immediately, but keep your expectations realistic and enjoy the journey to self-reliance. Let's get started.

Lisa Lombardo
Chapter 1: Basic Steps for Preparing Your Homestead
Throughout chapter 1, Lisa's voice acts as a personal backyard homestead planner. Starting with how to map out your homestead, you'll learn what to include and expectations to maintain.
Effortlessly, you'll learn about the importance of your soil and it's texture and pH including a step-by-step guide on how to determine the texture of your soil.
After you understand you should probably get your soil tested, Lisa guides you through understanding your zone and seasons. Understanding these details are crucial to knowing what fruit trees to plant, shrubs, perennials, etc.
One part of chapter 1 that I really loved about this backyard homestead book was the explanation of microclimates. We have so many micro-climates in Florida and, I'll admit, I've never taken enough time to understand them.
Just this year I've started paying attention to different parts of our yard – where it's cool, where we get the most sun, etc. Thus, micro-climates. It's so wonderful Lisa brings this up.
The second half of chapter 1 teachers how to assess and maximize your space and finally how to diversify. From covering different gardening methods to common crops and livestock, chapter 1 has all you need to get started.
And we've only dipped our toes in the water!
Chapter 2: How to Manage Your Homestead
It's taken me over 4 years to even begin feeling like I have a well-managed homestead, and even then, it doesn't always feel that way. Had I had this backyard farming and homestead manual I might've gotten here quicker.
First step to a well-managed homestead is to "create a project action plan". Lisa will walk your step-by-step how to do this, even giving examples of week to week activities and how to set homestead and harvest goals.
Brilliantly, Lisa introduces the next section on keeping your goals realistic. Not only will you read samples on how to set the goals, but Lisa even provides a month to month checklist on the goals to accomplish and materials needed. Complete with time and cost estimates.
Your next step is to set up a homestead calendar, which is made easy with a a template homestead calendar and a list of homestead chores by season.
Towards the middle of the chapter, you'll learn to map your harvests and receive example templates for managing your homestead.
These templates include but aren't limited to, a Harvest log for crops or livestock, Homestead action plan, Homestead projects plan template and Project action plan.
Chapter 3: Vegetable and Herb Gardens
I suggest getting lunch for this chapter because you will be hungry at the end!
I love how some of the chapters begin with feasibility research. When you start homesteading, research is an active part of your life especially if you don't know anything (like I did).
Lisa provides a comparison of the cost of purchasing produce with raising your own and estimate time amount of commitment.
Following this mathematics breakdown is a potential savings chart for common homegrown vegetables. This chart will help you decide which crops to put energy into growing to save the most money.
When planting crops you do need materials and tools, which Lisa provides a list of what you need and guesstimate cost breakdown of each tool.
Chapter 3 wrap-up includes a seasonal vegetable and herb garden chore list, potential problems and cost of solutions, and how to create goals for your vegetable and herb gardens action plan.
You'll also find assistance in mapping out your garden plan, including taking into consideration crop rotation, companion planting, succession planting and example schedules for succession planting.
Ending with how to build a raised bed and choosing the best veggies and herbs you'll find a breakdown chart with 24 crops common included, their spacing, yield, time to harvest from seed and best growing conditions.
Chapter 4: Fruits and Nuts
My personal motto is "If you want to learn patience, grow a garden. If you want to master patience, grow a fruit tree.".
Lisa introduces feasibility research and estimate cost of materials before jumping into the fun stuff of choosing the best crops for your homestead.
The seasonal chores checklist for producing fruits and nuts will help you stay on track as the days turn into months. You'll learn about potential problems and solutions and how to create a great action plan for your fruit and nut orchard.
Wrapping up, you'll be guided through mapping out your fruit and nut spot, choosing the best fertilizer and a schedule for each crop. Maybe the best part about chapter 4? A complete guide to pruning!
Chapter 5: Grains and Livestock Feed
The second half of this backyard farming and homesteading book has been the most valuable for me. I love how Lisa accompanies the reader throughout their journey, first introducing the homestead activities that won't completely overwhelm you.
I haven't had a lot of experience growing my own grain for livestock. I do sprout fodder in the winter and ferment chicken feed to save money but I've never tried buckwheat, close, oat, etc. When I'm ready to try those out, I know where I'll be starting. Page 78 of this backyard farm and homesteading book!
Page 82 explains how to prepare your homestead for grains and livestock feeds, followed by a 2.5 page chart on choosing the best grains and livestock feed for your backyard homestead.
You even learn how to mill grains for flour and grind your own flour in a blender!
Chapter 6: Raising Poultry
Raising Poultry is an in-depth chapter on the various types of poultry to choose from and the various costs to expect.
There are a few charts in chapter 6, of which my favorites are the average cost to feed meat birds to butcher weight and cost to raise 25 chicks to point of lay at 22 weeks.
Chapter 6 also provides a seasonal poultry chores checklist, a chart for best poultry uses and space needed, and a chart for the best layers and dual-purpose chicken breeds there are.
You won't have to Google a single thing about raising poultry after reading chapter 6 of The Beginner's Guide to Backyard Homesteading.
Chapter 7: Raising Dairy and Meat Animals
Chapter 7 has made me hopeful and excited to grow my homestead. I haven't yet raised animals for dairy and have only raised one large animal for meat – a pig.
Backyard homesteading for beginners can be overwhelming when considering dairy goats, large livestock for meat and the logistics in-between.
Starting with feasibility research and a breakdown of the expected cost of materials, the cost of keeping small dairy animals soon follows. Provided is a chart for the cost estimate for purchasing and feeding dairy AND meat animals.
As with other previous chapters, you'll find a detailed checklist for seasonal chores for livestock care and an example chart for a day to day schedule when caring for your livestock.
Lisa covers all the small details such as fencing and shelter, so don't worry about feeling lost when preparing for your new friends.
Ending the dairy and meat chapter is a quick rundown on choosing the best dairy and meat animals, along with an example of how many animals you might need and quick tips.
Chapter 8: Beekeeping for Beginners
Becoming a beekeeper has been on my bucket list for quite some time. Naturally, I feel this is the best chapter of the whole book! But I think that's because I REALLY want bees.
I loved the feasibility research and expected cost of materials breakdown for this chapter because the largest turn-off for me about bees are the expenses.
Some folks said it was extremely expensive to start a colony and others disagreed. Lisa breaks this down for me and now I'm able to create a proper plan of action.
After the provided checklist for season chores, Lisa gives 20+ suggestions on plants that provide nectar for honeybees. Perfect for my medicinal herb garden I'm planning!
I have learned where the best spot for my hive(s) might be and also that there are different types of hives. The "Common beehive and their pros and cons" chart is very informative and helpful in choosing which hive might be best for me.
Finally, chapter 8 teaches you how to install and maintain your hive and, finally, harvest your honey!
Chapter 9: Growing Beyond the First Season
Wrapping up this backyard homestead book review, the last chapter is about growing beyond your first season. PERFECT.
Feeling overwhelmed? No worries – Lisa is going to prove to you that this lifestyle is possible and you, too, can thrive here.
More like a backyard homestead seasonal planner, this great book ends by telling you how to extend and preserve your harvests by using plant protectors and drying, freezing and using other methods of preservation.
Lisa is thoughtful enough to cater to each geographical location, providing an "effects of elevation on processing times and PSI" chart for when you start pressure canning and water-bath canning.
As if a complete rundown on backyard homestead kitchen know-how weren't enough, you'll find on pages 152-157 how to monetize your homestead equipped with how to identify your buyers and the best practices for selling your products.
Appendix, References, Index
And finally, Lisa bring you delicious recipes to use when preparing your homestead harvests.
You'll find vegetable and herb recipes, grain recipes, recipes for egg and poultry, meat and dairy and even honey and beeswax recipes. If you have a harvest, this book has a recipe.
The Beginner's Guide to Backyard Homesteading summary
Lisa has a backyard homestead blog called The Self Sufficient HomeAcre where you can find a wealth of knowledge to assist you even further on your homesteading journey.
This backyard homestead mini-farm and garden logbook for dummies is just the first step in thriving on your land as a beginner. Homesteading doesn't have to be overwhelming or scary.
Learn how to grow practical produce, create a side hustle and practice a farm to table lifestyle with The Beginner's Guide to Backyard Homesteading.
Related to backyard homesteading for beginners: