If you're on a mission to grow your best edible victory garden, these are definitely the best vegetables to grow in raised beds.
I've grown all these vegetables in my raised beds over the years. Some of them are even frequent growers!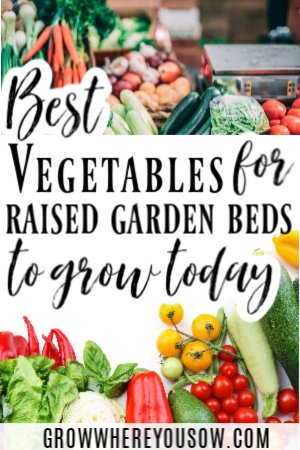 10 of the best vegetables to plant in your raised garden beds.
Growing crops can be difficult, but there are also incredible benefits of gardening. Honestly, I have not quit gardening yet so I must be getting something out of it.
The truth is that gardening does not come naturally to me. I'm more of an animal husbandry type gal. But none-the-less, I love to garden and continue to do it.
Knowing about the best crops to grow, the required soil depth and the best fertilizer to use will help on your journey.
It's also great to know about the best raised garden beds and gardening methods to choose from when you're first getting started.
WHY are these the best vegetables for raised beds?
When it comes to growing food, Florida begs for raised garden beds. Our soil is just complete sand and would take years of mending and feeding it for us to plant vegetables there.
Before you start buying seeds, do your research so you know what to prepare for.
Cucumbers
I grew cucumbers for the first time last season and it was SO much fun Definitely one of these best vegetables for raised beds! They vined all over the place and grew these beautiful yellow flowers, so make sure you have a trellis.
A regular tomato trellis can do if you have one laying around! I harvested so many cucumbers from two plants it was unbelievable, really.
Looking back, I could've used them a bit more wisely by planting them in a location that would've provided shade for my lettuce or kale. I've mentally noted that mistake and will adjust properly for this season.
Cucumbers like full sun, so don't be afraid to use their beautiful blanketing vines to provide shade for your other crops.
Tomatoes
Tomatoes another great plant for garden beds. If you don't want to give, or don't have, the space in your beds for crops like tomatoes and cucumbers you can grow them successfully in containers.

Tomatoes love, love, love full sun so slap those beefy, red beauties directly under it. You'll want to plant deeply, mulch completely, and water generously. Be sure to trellis your tomatoes and prune the suckers that shoot off the bottom to promote great air circulation.
Update: I'm growing tomatoes first the first time in a few years and noticed some browning at the bottom on the lower 'branches'. I took some fine pruners and snipped off the brown, followed by snipping some suckers off also, and I can not believe the improvement! There hasn't been any brown growth since! (2 weeks!)
Garlic
It's said that you can plant a little pasta garden and repel pests. I don't mean you'll actually grow pasta, that's not possible. But if you pair your garlic and basil with your tomatoes, there should be no nematodes at your garden party.
I'm actually currently growing garlic and will be harvesting in the Spring, then planting another round to harvest in the summer. Garlic is a root plant so, depending on the variety you plant, you'll need to make sure your raised bed is deep enough. You can also plant carrots near garlic to repel pests.
Update: I absolutely love growing garlic. Although I missed growing it this last season, I might try for a fall crop! My garlic crop lasted almost a full year. Note, I'm in Florida so I fully expected my garlic to mold! It's VERY hard to preserve root vegetables here.
Beans
Beans are my husband's favorite crop. Again, if you're in need of shade, beans can be a great candidate. There are so many varieties of beans you can plant. I love french climbing and Kentucky wonder beans for when I need shade in the garden and don't want to use my hoop gardens.
I love blue lake bush beans if I just want beans with no trellis-stress. Beans provide the soil with nitrogen, so be sure to pair this crop with a heavy nitrogen feeder such as cabbage and broccoli to make this one of the best vegetables to plant in a raised garden bed.
Update: When planting beans, don't plant them near peppers! I made this mistake the 2020 Summer season and I wondered why my beans were stunted and my peppers are moving at a snail's pace.
Kale
We've only ever planted Red Russian Kale, and only had success with Red Russian Curl. This Spring season coming up, I'm going to try Blue Curled Scotch Kale so I'll let you know how it goes.
Red Russian Kale is a great vegetable to plant in a raised bed because it doesn't take a lot of space. You can get away with planting them a little closer together than suggested. Additionally, kale is also a great cut and come again crop, producing consistently all season.
Beware though, kale can get mighty bitter in hot weather. I suggest masking it heavily with fruit juice and/or frozen fruit if trying to feed it to a picky husband.
Spinach
I have an announcement! This winter is the first time I have ever successfully grown Bloomsdale Spinach in my vegetable garden! Seriously
Y'all, that is a huge achievement for me. I don't have a lot of it, but by God, it's there and I've put it in a smoothie because my picky husband wouldn't eat my bitter Red Russian Curly Kale. Yes, I'm pointing fingers.

I'll tell you what variety of spinach I've had wild success with is New Zealand Spinach! New Zealand Spinach is a great vegetable to plant in the garden in every season, even summer because it is heat tolerant. A small disclaimer though, these plants get quite large. My spinach was planted right next to my cucumbers and it worked out perfectly.
Update: After planting New Zealand Spinach this year in my hugelkultur gardens, I think I might try and do these crops in pots or even try to prop/trellis them. When NZS is healthy, it's larger than life!
Zucchini
Zucchini also requires some space but work so well in raised beds. Zucchinis are actually great plants for a raised bed in full sun.
Growing zucchini in raised beds is also quite easy and I do it every season!
These plants provide great shade for plants such as spinach in the garden and benefit from the nutrients left behind by spinach, too.
Pair zucchini with garlic to repel aphids and do you remember when I said to plant nitrogen loving plants with beans? Zucchini is a great candidate for your nitrogen loving vegetable!
Okra
I grew okra for the first time this spring and summer and can't wait to do it again! Okra flowers are so beautiful. Okra also loves the sun and can grow to be 6 to 8 feet tall! I like the Clemson variety.
If you're trying to grow okra in the cool weather, you'll probably fail. This vegetable is great for a raised garden bed as long as it's planted in the warm weather. The soil should be at least 65-70˚ consistently before planting.
Oh, by the way, make sure you cut your okra pods while they're small because the larger they get, the tougher they get. Trust me on that one, I know from experience.
Collard Greens
I've read that collard greens need a lot of room to grow and get large but last season I grew multiple small plants and got a ridiculously plentiful harvest.
For this vegetable, you want to allow is adequate sunlight and moist, fertile soil. Collard Greens are also a great companion vegetable to plant in your garlic bed. Garlic is a root vegetable and collard greens need room to grow upwards.
Plant these two together to maximize your space like you'll be doing with your spinach and zucchini.
Carrots
I'm going to toot my horn a little bit and say I can grow some seriously wonderful carrots.
A lot of gardeners have told me that carrots are a challenge for them so I don't know what it is that I'm doing but I've just always had the best of luck with carrots.
You won't ever believe it, but garlic is a great companion plant for carrots. I'm laughing out loud because it seems like everything I plant loves garlic.
Have you ever heard that thing about how the owner of a dog always matches their dog? I wonder if it's okay to say the same thing works with gardeners: the gardener matches their crops.

Carrots are such a great crop to grow in raised beds and one of the most fun crops to harvest. I love the suspense of what it'll look like when you pull it up from the ground! You'll want to have loose soil for carrots and keep it moist. Don't let that soil dry out!
What vegetables are you growing in raised garden beds?
Are you gardening? There are so many easy vegetables to grow in your raised garden beds. I'd love to hear about what you're growing this spring season! These are some of the best plants for a raised bed.
Pin for later!
More on vegetables and gardening…