So, you want to start growing luffa sponges? You're in the right place!
Luffa sponge (also spelled luffah or loofah) is a cucurbit vegetable gourd. They actually can grow right in your backyard! I always thought they were sponges from the ocean! These gourds are most used as scrubbing sponges due to their porous fibers that soften when wet.
Also known as the dishrag or rag gourd, sponge gourd or luffa aegyptiaca, these multi-use sponges are useful for the whole family – and so much fun to grow!
Although some folks eat luffas as young fruits like squash or cucumber would, I won't be doing that. Instead, I'll be hanging them to dry to use as sponges and will teach you to do the same! Are you ready to grow these gourds?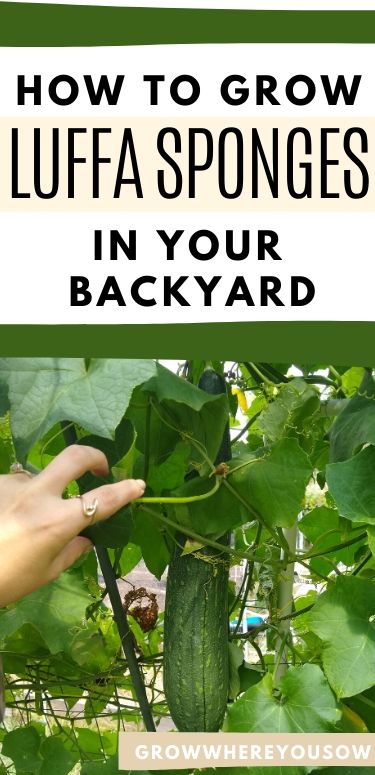 How to start growing luffa sponges in your backyard.
When growing a loofah sponge, it doesn't have to be hard. Many folks find it easy, super fun and rewarding! Harvesting them can sometimes be a challenge, but I'll walk you through that, too. I'll take you through my process and we'll find yours as well. You'll be growing loofah sponge after loofah sponge in no time.
Don't forget to read the comments for other folks' quick tips and experiences!

Where to get seeds
I learned about growing loofah plants from someone writing about how challenging it was. Well, a challenge sounded good so I bought some seeds.
I remembered reading the luffa seeds would take a very long time to germinate, but mine only took tops two weeks! Once I bought the seeds, put them in the ground and they popped up almost immediately. No soaking or chilling required!
Soil and location
You should use rich, well-draining soil so that's what I put them in. We have sandy soil here in West Central Florida so I was sure to mix in some quality, home-made compost.
We have a well-draining form of sand in our yard. Paired with the rich humus and nutrients from the compost, I had the perfect ratio of sand: soil.
For the location, your vines need lots of sun exposure! My luffa vines get sun all day long and they love it. You want to make sure your sponges grow on a sturdy loofah trellis so the 1-2 foot (Yes, you read that right!) gourds don't rest on the ground to rot.
I set mine up by a fence and they took off and took over! Here's a picture of how they started out. (This picture was taken June 27, 2018, and the seeds were planted May 17, 2018!):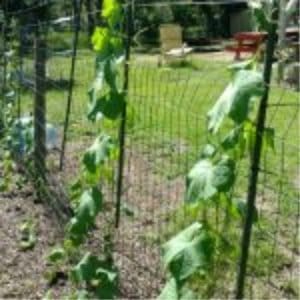 Watering your gourds
I live in Florida so we get a fair amount of water from the rain. Actually, I've turned my hose on a total of 10-15 times since May! Needless to say, our electric bill has been low all summer because we haven't had to use our well quite as much. Thanks, Mother Nature!
On dry days, I give the base of the vines a nice soak so I can maintain a consistent schedule for growing. I've also mulched them since the rain is slowing down a tad bit here in September. My luffas are thriving!
If your luffa seeds get waterlogged, they won't survive. So if your yard puddles after rains then you can do yours in pots! Make sure to have a good, strong trellis for them. By August 3, 2018, my vines looked like this: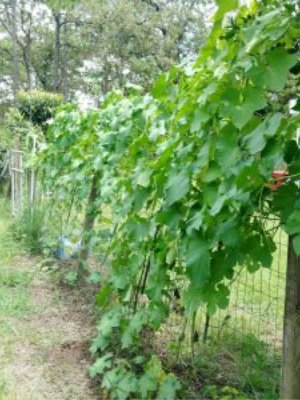 This looks all fine and dandy but I read that vines can grow up to 30 feet! When I started growing these fun sponges I didn't believe it at first but proven wrong. Don't worry, I'll show you a picture! The twine strung between the posts was pulled by the weight of leaves and thick stems. Next year I'll construct something out of wood and wire.
The perfect season for growing a luffa sponge
Luffas love hot weather and a long growing season. They can take around 4-5 months to reach maturity so I'm nearing that date now. Planted in mid-May, I'm at the four-month mark.
I got my first bloom on August 13, 2018, and boy was it pretty. Soon after I got my first bloom, I noticed my first gourd. The gourd is high up in a nearby lemon tree.
Below you'll see my first flower, my first gourd, and how intense the luffa vine took over. I love them and they love the luffa flowers so I'm totally okay with the bee party that takes place every day all day.
I'll miss them when they go but look forward to the next year. If bees aren't your thing, don't plant luffas or plant them somewhere that you don't have to pass by so often.
For folks in a cooler location with a shorter growing season, your luffa will take longer to mature. Plant them as soon as you can after the danger of frost has passed.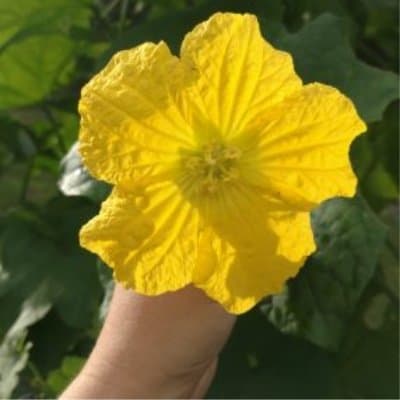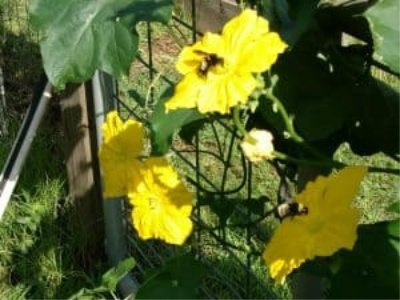 Harvesting and drying
I'll be harvesting my luffas soon. Some say to wait until they turn brown and the skin dries and others say to harvest and peel them once the skin feels "loose".
I believe you should consider the zone you're growing in. Your gourds will need to be harvested at a different time in a more humid, tropical environment than a dry one.
After I peel my luffa gourd, I'll remove the seeds, spray off any pulp, let them soak in a soapy water or vinegar water and then dry a couple of weeks.
These gourds were supposed to be a difficult vegetable to grow. They worked out flawlessly in my yard! For us Floridians, our long growing season supplies us with a great opportunity.
Here's a quick video of the first time I harvest my luffas! They were a little too brown, but it still worked out nicely.
Want to keep track of your harvest with my free homesteading PDFs and join the flock?
To summarize:
DO:
Plant your luffa seeds in a well-draining, sunny area.
Construct a strong trellis to support your vines all seasons.
Admire all the bumblebees you'll attract.
BE PATIENT! Once you see that first bloom and gourd, it'll take off from there
Tell me if you're growing luffa gourds so we can chat about it!
Send me pictures of your vines!
Read this next as a follow-up post: Harvest Luffa Sponges: How to and When to Harvest!
Use your luffas for dishes because it's the best!
Read the comments below to see other folks' experiences and comments.
DON'T:
Harvest them too early.
Shade them because the flowers close, this is normal.
If you're scared of bees, plant them near the house.
Plant them on a fence that is already falling apart… I guess I'll finally be fixing the fence after the season is done!
Plant them too close to other vegetables such as squash. They might cross-pollinate!
Overwater them. Remember, waterlogged seeds mean no germination!
POST UPDATE:
For those of you who have been following this blog for a while, you'll know I was originally based in Florida. I have since moved to Eastern Kentucky – which is a whole new gardening ballgame! I've started completed over and have been slowly building up a brand new homestead.
This blog will continue to be a safe learning space – and I'll continue to write transparently about the new experiences I have. FIRST OF WHICH will be growing luffa sponges in the spring! For those of you who need guidance of luffa sponges, I am here for it! And soon I'll be able to give personal advice on growing luffa sponges in a cooler climate. I. AM. SO. EXCITED. In the meantime, drop me a line and happy growing!
Don't forget to pin this for later!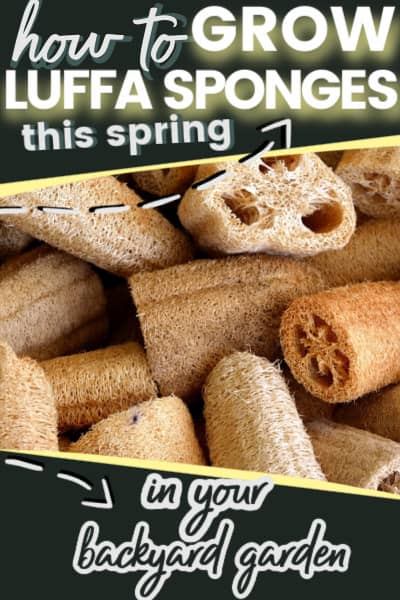 More on growing luffa sponges: