I've begun to harvest my luffa sponges and it's been a bit of a confusing endeavor. I read so many "How-To" articles and felt they were pretty misleading in ways. I'm going to explain to you what I've learned about harvesting luffa sponges and how I did it; what worked for me and what did not.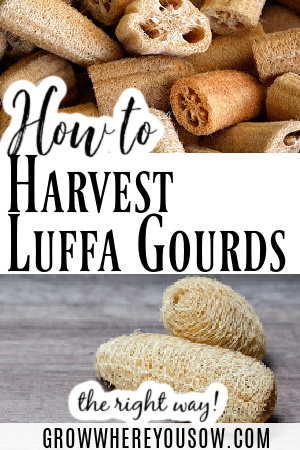 How to and when to harvest luffa sponges for the best product.
I told you all I'd be back about harvesting when I wrote about growing luffa sponges a while back and here I am. Harvesting time does not have to be stressful like it was for me and harvesting loofah gourds can be FUN.
After all the reading I did without finding what I was looking for, I was so frustrated. Additionally, I was SCARED to harvest my gourds! I wondered if I was going to harvest them to early, or too late, and ruin them. Growing luffas had been such a fun endeavor and I didn't want all my energy put it to go to waste.
So, I decided to start in phases when my gourds started changing colors and try to find what worked. This was a great decision because now I can let you know what worked for me so you can avoid the frustration I experienced!
Enough chit-chat, though. Let's learn how to harvest our luffa sponges today without letting our gourds and energy go to waste!
External color
You can't go by color alone when it comes to harvesting your luffa sponges and that is slightly aggravating. When reading about when to pick luffa gourds, you'll read to only pick your luffas when they're brown and dried on the vine. You'll also read to only pick them when they're still yellow/green.
In my experience, you do not want them dried up and hard hanging on the vine. This means your luffa sponge is more likely to already be molding. Instead, look for luffa gourds that are turning from green to yellow, making their way to a brown luffa.
Texture when harvesting luffa sponges
Harvest your luffa sponges before they have completely dried out, with a slight "give" when you squeeze it. If the gourd feels pretty soft, leave it a day and check again tomorrow. Pick the luffa if your luffa sponge feels like it'd be pretty hard if you waited a day!
The browner your gourds get the harder they will get. I read this was the perfect time to pick them. As mentioned before, this method always meant more mold in my sub-tropical climate. The confusing part comes when I tell you the very first luffa sponge I ever harvested was rock hard.
It sounded like a maraca when I shook it from the seeds; this luffa revealed no mold when peeled! For the rest of the luffas I waited to peel, this HAS NOT been the case.
Internal color and peeling
After harvesting your luffas sponges using a pair of pruners, you're ready to peel them! First, you'll want to hit the gourd on a hard surface a few times to loosen the seeds.
Next, cut the bottom end of the luffa sponge off. To be clear, this is the end that was not attached to the vine.
If your gourd is extremely dry and sounds like a rattle, the seeds will probably fall out quite easily. My luffa sponges needed to be harvested a little sooner than that so it was a little more difficult to get the seeds out when peeling them immediately.
Grab some scissors, cut down the inside of the luffa flesh and peel the skin all the way off! When harvesting your luffa sponges they'll be much harder to peel if you wait until they're completely dried on the vine.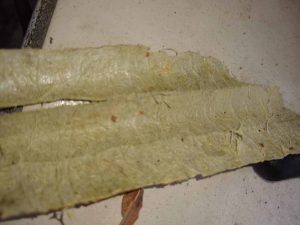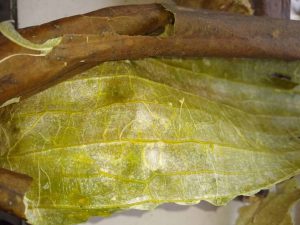 Completing the harvest and preparing for use
After you've removed all of your seeds and peeled your luffa sponge rinse all the sap off the sponge itself. The easiest way to do this is to get a garden house with a sprayer and use the "pressure wash" setting, or something close to it. You're looking for a straight stream of water that comes out with high pressure.
Spray your sponge up and down until the slimy feeling has gone away. There's no reason to be super persnickety doing this because you're going to use your sponge in the water later anyway but just get as much out as you can. You're also removing any extra dirt or plant particles while spraying the gourd.
After your dry your luffa sponge you've successfully harvested your luffa sponges! Learning how to dry out luffa gourds is easy.
I laid out a couple of towels on my kitchen counter, put my luffas on top of them and patted them down with another towel. Over a day or two, rotate your sponges and pat/squeeze them dry (be gentle). Once they're completely dry, they're ready to use!
If you're wondering how to dry green loofahs, the answer is ultimately 'carefully'. When luffas are still green, they're usually quite wet still. If you had to pick your loofahs early, spray them well with a hose and let them dry.
Check your gourds often when drying when they're green to make sure they don't mold. If you can put a fan on them for constant airflow, that would be great!
Any time you can let your luffa gourds mature on the vine and avoid peeling when they're green, you'll have an easier go at harvest time.
Summary for harvesting luffa sponges
Have you grown and harvested luffa sponges before? How did it go and what was your method? What have you used your luffas for? I plan to try growing other types of gourds eventually since the luffas grew so great. It's so interesting how the processes change in with each different climate, I'd love to hear about your experience in the comments below!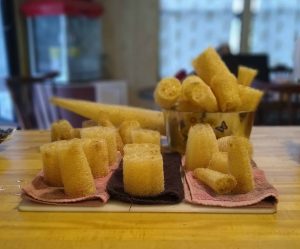 Want to keep track of your harvest with my free homesteading PDFs and join the flock?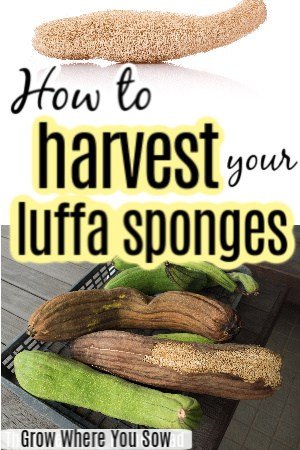 Related to luffa sponges