Holiday traditions you can afford
Holiday traditions are passed down from family to family throughout the years. But what if your family doesn't have any traditions?
I come from a family lacking of proper traditions and that got me thinking. Why not start my own?
We don't like to blow a lot of money during the holidays if we can help it so I've come up with 32 affordable holiday tradition ideas to start this Christmas season!
32 holiday tradition ideas to start with your family on the homestead that won't drain your bank account every year.
Holidays and traditions are a great combination. Starting a few traditions for Christmas can be a fun way to take up time and keep everyone entertained easily during the holidays.
Not to mention, it gives you something to look forward to! These holiday tradition ideas aren't only great, but they're also easy and affordable.
There are a few Christmas traditions that can break the bank. Luckily, here are 31 ideas that won't!
13 more traditional ideas
Watch a family-friendly holiday classic
There are so many classic holiday movies to choose from. Growing up we watched The Grinch, Polar Express, The Nightmare Before Christmas, Elf and A Charlie Brown Christmas.
This year, due to the global health pandemic, my sister is living with me so I'll be bringing all those traditions into my own home!
Bake Christmas cookies!
This has always been one of my favorite holiday traditions. In fact, I'd say it's my holiday tradition that I look forward to the most.
Every year I bake cookies with my sister in law and spend a full day decorating. I'm talking a solid 12-14 hours of sitting at the kitchen table decorating cookies!
Although every year we regret making so many cookies, we always make the same amount next Christmas. It's a tradition! I'm also considering getting a special cookie jar for Christmas (as long as I can find a place to store it!).
Make a gingerbread house together
I admit I've never made making a gingerbread house a tradition, and I've only done it once. When I was younger gingerbread wasn't something I'd like.
The older I get, though, the more delicious I think it is! Especially made with molasses.
When I have children, though, I think this will be a fun tradition to start. Especially if we can make the gingerbread from scratch! I found these awesome gingerbread house cookie cutters that would definitely make creating a gingerbread house from scratch easier.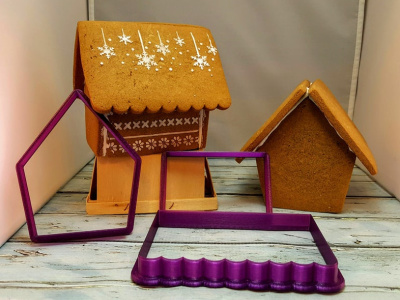 Buy a Christmas tree together
This is a more common family holiday tradition. I'd say many families across the United States go out to buy their Christmas tree together (at least if they're buying a living tree).
I'll be honest, this task is sometimes a stressful one depending how many family members are tagging along. Nevertheless, it is something that we all know will happen once Christmas rolls around. May the odds forever be in your favor!
Decorate the tree as a family
Another family tradition that is more common than others, but so much fun! If you don't already decorate the Christmas tree with your family, try a few of these suggestions:
Save one special ornament per person and each hang your ornament on Christmas Eve
Make paper chain decorations or other homemade decorations together each year.
Wait until Christmas Eve before the kiddos are tucked in to add the tree topper!
Make an Advent Calendar
This is another fun, simple activity to do with kids or creative adults! We don't do advent calendars in our house but, if we did, there would definitely be chocolate involved!
Try using Elf on the Shelf
One of the latest, popular holiday tradition ideas for Christmas is the "Elf on the Shelf". I love seeing all my friends with kids hiding their Elf in all types of places.
Some of them even choose themes each year and leave little notes with their Elf. How cute!
Go on a holiday trip to see Christmas lights
Growing up we used to drive up to the city and through the neighborhoods with the largest homes. They were so decorated and it was magical.
I still thoroughly enjoy doing this in my adulthood! You don't have to book a weekend away to view Christmas lights. Look into your nearest neighborhoods and take a holiday trip (or drive) to that neighborhood!
Don't get your hot cocoa thermos!
Wear matching pajamas
Wearing cute holiday pajamas are a new trend that started popping up a few years ago.
I don't really blame people. I love pajamas and holiday pajamas are even better! Another great thing about pajamas is they make a great gift. My uncle sends us pjs every year.
Take a picture in your matching pajamas
You can take a picture every year on Christmas morning for next year's holiday card! Talk about an affordable holiday tradition.
Many of us have phones with cameras and if you have pajamas, the only thing you're spending is time!
Have customized stockings for each person
Growing up, this was something all of us kids loved. We each had a beautiful stocking with our initial on it.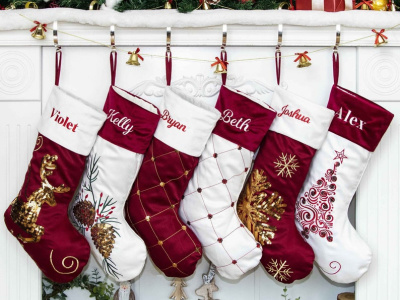 Last year, my in-laws gifted me with a special stocking matching my husband and sister-in-law! It was like I was an official part of the family.
They also gave me a personalized ornament for me to put on the tree every year, just as every else. It really is the little things.
Getting customized stockings can be a simple, affordable tradition for the family that will only cost money one year. Then this gift will keep on giving, years and years to come.
Set out cookies for Santa and vegies for his reindeer
My niece and nephew come to my house every year and we set out cookies for Santa Claus and veggies for the reindeer.
To give it a homestead twist, I try to put out vegetables that I've grown on the homestead.
I also have a special plate we use every single year. It's "Santa and the Reindeers' Plate" and a tradition that we use it for the goodies.
Write a letter to Santa Claus and his reindeer. (Don't forget Mrs.Claus!)
Alongside Santa's cookies and the reindeers' treats we write a letter to Santa Claus every year. My niece and nephew are getting a little older so I'm not sure how much longer these traditions will last.
For this year, I think I'll buy a special Santa pad and then just save it for when I have kids. We thank Santa, Mrs. Claus, the reindeer and the elves for all their hard work.
15 less-common traditions
Use a customized/personalized Christmas cookie cutter
I'm definitely doing this starting this year! I recently bought a cute Florida boot cookie cutter that I plan to use every year but I'm going to order a customized cookie cutter specific to my family, too.
Cookies are a huge part of our holidays. What's more fun than having a cookie-cutter that no other person has?
Make a crockpot hot chocolate bar
Another activity on my bucket list, I saw on Pinterest years ago festive hot chocolate stations. You can do kid and adult-friendly versions (booze vs no booze).
A few friends of mine and I talked about organizing a hot chocolate bar with peppermint candies, marshmallows, chocolate syrup and maybe rum!
For the kids you can add extra candies and graham cracker pieces. Bonus if you have super cute holiday mugs!
Take a walk on a beautiful trail
Florida is full of beautiful springs and trails. My husband loves running in the woods so he knows all the beautiful spots.
Walking is free and it's crucial to get your body moving during the holidays.
I know it isn't the most fun thing to do (exercise during the holidays) but getting your endorphins moving will lift your spirits and making you feel g-double o- d!
Visit your local state parks
Ellie Schiller State Park is a short drive from our home and it's becoming a tradition to visit each year.
During the day we can see the native Florida wildlife and in the evenings for a short time they throw a holiday celebration. All the trees are decorated in lights, they sell hot cocoa and synchronize the lights with the live music.
Host a neighborly potluck
Given the current climate of the global health pandemic, this one might not be accessible this year. But pre-pandemic, hosting a potluck is a great, affordable way to celebrate the holiday season surrounded by people you love and care about.
You could choose the third Friday of every December or whatever works for you. Light up the bonfire, set up your hot chocolate station and get to pot-luckin'!
Donate homemade baked goods to local food banks
There are far too many people who go hungry during the holidays. While you and your family are baking holiday cookies, consider baking extra to give to your local food banks.
Just make sure they accept perishable items first. Each county/city is different so you don't want your goodies to go to waste.
Volunteer at your local food banks
Not only are people going hungry, but they're also alone on the holiday. Volunteering at your local food bank is a great way to give back to the community and share a little love and happiness with individuals that are less fortunate.
Participate in an annual toy drive
There are national foundations that set up toy drives and often many local organizations that are running toy drives.
Although the reason for the season aren't presents, a small gift could make a young child smile during the holidays. It makes my heart ache to think about the children that don't have loving, warm, safe homes to spend the holidays in.
Visit this link for a few different ways to participate in a toy drive.
Send homemade holiday cards to your local children's hospitals
There are so many sick children in the hospital every holiday season. Although the staff is often wonderful at introducing the Christmas spirit to the patients, it still isn't the same as being home in your own bed with your family.
Creating homemade holiday cards and sending them to the hospital can be a nice thing to do. Make sure, though, there aren't any rules and restrictions before dropping them off.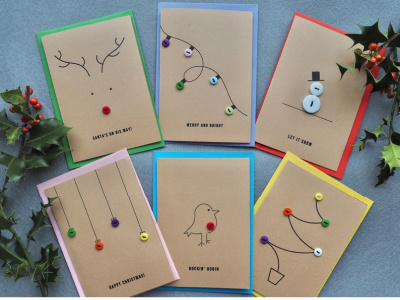 Send homemade holiday cards to your local nursing homes
Same idea for this affordable, giving holiday tradition. Have a craft day and prepare some holiday cards that you can drop off to your local hospitals and nursing homes.
If you're allowed, and have a talent, you can go in and play music at nursing homes and hospitals. There are so many options for giving back this holiday season.
Listen to a Christmas audiobook
Audiobooks are easy and affordable. You can listen to audiobooks while you're baking your Christmas cookies or making cards.
Often, your favorite holiday book classics also come in audio form. Here are a few holiday classics you can listen to (with the kiddos) on audio.
Read a short holiday story
Every year my husband's family (my in-laws) reads a little bit of The Shepherd, the Angel and Walter the Christmas Miracle Dog by Dave Barry. Disclaimer, it's tear jerker!
Either way, it's something everyone looks forward to. You can also do this with the holiday books I've mentioned a few times already. A lot of these Christmas stories are short and easily readable within a night. Although Dave Barry's might take you a little longer you can start it on Christmas Eve!
Books that are easily readable in one night:
Books that are great but can take more than a night:
Hide a Christmas ornament
It could be a fun holiday tradition to hide the custom family Christmas ornament?! Or some other Christmas knick-knack that might be a family heirloom (not easily breakable, of course).
IF you have children involved in the holidays, easy traditions like this can also keep a full house busy for a while.
Get festive Christmas socks
I love holiday garb, y'all. From festive shirts to tacky vests and earrings, you can catch me in the holiday spirit all season long just rocking my holiday clothes.
A fun, inexpensive holiday tradition can be to buy matching holiday socks instead of pajamas! The great thing about holiday socks is that it takes a little longer to grow out of them and they're much easier to store after the season!
Light the Christmas tree
Honestly, I light our Christmas tree the moment it has lights on it! But, if you're more of a patient holiday-er, you could wait until Christmas Eve to light up the tree.
Or maybe just wait until the whole family is in town and you're together for your first-holiday dinner of the season. Pair this tradition with taking a picture in your matching Christmas garb and a hot chocolate bar for dessert!
4-holiday tradition ideas for the homestead
Harvest veggies for dinner together
Some cooler states might not have this option unless you have nice greenhouse or indoor garden setup like a Lettuce Grow. Here in Florida, we're fortunate enough to be able to grow vegetables and herbs year round.
It's so much fun to bring the kiddos out to the garden and harvest salad greens, squash, etc. for a fresh dinner that night.
Being in the garden is stress-reliving and peaceful no matter what. Why not share your little slice of heaven with the fam?
Make a homemade ornament from material on the farm
Every year I have yards and yards of grape vines after pruning time comes and goes. It was be fun to create small wreath ornaments out of them, or hey large wreaths will work also.
You can also take pine cones and make fun Christmas bird feeders with them. Roll the pine cones in peanut butter and then roll them in some festive bird feed!
Have a yearly burn party
I'm still working through all the branches, pruned vines…and even last year's Christmas tree that I still need to burn. Even in Christmas in gets chilly at night eventually. Pull out the marshmallows, chocolate bars and smore skewers and light that fire!
While you're at it, set up another hot chocolate bar and add in a smores station because, why not?
Have a meal outside!
Every year we eat Christmas dinner at our picnic table, weather permitting. It's no nice to enjoy beautiful weather a a large meal with family.
We have an outside kitchen I clean up every year so we can do a few dishes outside right after dinner. We use non-breakable china so we don't have to worry about breaking the nicer plates, and I don't mind that.
I know friends who have larger families and just use pop up tables and a Christmas themed table cloth. You can always make it work for a delicious meal in the beautiful outdoors.
Holiday traditions: Summary
Have you tried any of these affordable ideas? What holiday traditions do you look for to during the season? I think it's so great to try and find affordable things to do during the holidays. Remember, the reason for the season is the presence, not the presents.
Don't forget to pin this for later!
Related to holidays on the homestead…