Home remedies for a cold and sore throat
Many individuals are searching for more natural, home remedies approaching colds and sore throats. Here are 9 natural remedies I use to help out with a sickness when I have it.
9 home remedies to use in aiding a cold and/or sore throat during any season.
Colds and sore throats can put a real damper on your day to day life. These 9 things are store-bought items I have on hand at all times.
Although I do believe in modern medicine and going to the doctor when needed, I'll admit I lean towards alternative medicine first at times. I love a home remedy for a sore throat.
Note, I am not a doctor and have not received medical training of any kind. These are personal decisions I make for myself. These products are not meant to be a prescription for diagnosis of any kind. Please visit a medical professional if you have concerns about your health.
Manuka Honey
Manuka Honey is honey made in New Zealand and Australia by bees who pollinate the native manuka bush.
I will always have it in my home remedy cabinet. If you want to know how to cure a sore throat fast, this is how!
When I was in high school, I got strep throat and the doctor told me I'd have strep throat for at least 4-6 weeks.
My mom had me take two spoons on Manuka Honey, one in the morning and one at night, and my strep was gone within 2 weeks!
All honey is medicinal due to its antibacterial activity. Manuka Honey just maintains a higher antibacterial activity because of Methylglyoxal.
My husband works on a boat and gets sick almost every winter with some kind of cold so now I send him with single-serving Manuka packets! I truly feel that Manuka Honey has been one of the most effective home remedies for sore throat I've found.
WebMD says
"The major antibacterial component in manuka honey is methylglyoxal (MG). MG is a compound found in most types of honey, but usually only in small quantities.

In manuka honey, MG comes from the conversion of another compound, dihydroxyacetone, that is found in high concentration in the nectar of manuka flowers."

WebMD Manuka Honey
Olive Leaf Complex Throat Spray
Olive Leaf Extract is what you get when you extract its unique molecule, oleuropein. This molecule can do wonderful things like help lower bad cholesterol and blood pressure!
I love this olive leaf complex throat spray not only for its health benefits but because it's so minty so it feels GREAT on a sore throat so I keep it in my home! I'll often use this remedy in the morning when I wake up and am feeling poorly.
A friend of my mom told me about this home remedy for sore throat and I've found it even works for me as one of the home remedies for a cold!
ACF
I'm giving you a fair warning, this stuff tastes really terrible but it works well! It's liquid nutrients by "Buried Treasure" and is truly that – TREASURE.
There are a few different types of ACF such as Fast Rapid Relief, Extra Strength, Prevention, and an Herbal Immune Support ACF for Children!
In our house, we buy the Extra Strength and keep it on hand at all times. Extra Strength ACF has Elderberry, Echinacea, Goldenseal, Olive Leaf, Marshmallow, Thyme, Usnea, Myrrh Androphraphis, and White Willow Bark.
Admittedly, I had to read about some of these herbs. This is the first herbal supplement we turn to in my house for any sign of general sickness at all like the common cold or a sore throat.
Echinacea Spray
Sickness doesn't taste well and neither does getting better apparently. Echinacea Spray is pretty terrible tasting but man-oh-man will it knock out a sore throat.
You spray your throat three times in a row and you can't drink anything after for 15-30 minutes.
We have two bottles of this echinacea throat spray in our refrigerator at all times along with the Olive Leaf Complex Throat Spray. We use echinacea for strep as well as just regular sore throats.
I love using the echinacea spray, letting it rest, and then using the yummy minty olive leaf spray!
Echinacea Tea
Staying within the same home remedy vein, echinacea tea is another staple in our house. I don't even have to be completely sick to drink this stuff.
It's said that the echinacea herb encourages the immune system and reduces many of the symptoms of colds, flu, and some other illnesses, infections, and conditions.
I buy the Traditional Medicinals brand and always have. They have multiple variations, some with lemon or some with elderberry.
Another really great aspect of echinacea tea is you can grow echinacea flowers AND they're a perennial! I plan to try growing it soon once my herb garden is put together.
If you have any pointers, I'd love to hear them!
Elderberry Lozenges
Elderberry lozenges are a great addition to a medicinal medicine cabinet that I often forget about. Anna from Salt in my Coffee has a nice post on how to make elderberry lozenge lollipops that you can find here.
Elderberry lozenges fight the cold and flu and are a healthier alternative to most mainstream lozenges and cough drops.
Ginger Beer
When I was a little girl and had a stomach ache or any type of nausea, my mom would give me a ginger beer. It can't be ginger ale, just ginger beer.
This was a staple in my mom's home remedy cabinet and always bought this kind for me and, like mother like daughter, because I won't buy any other brand.
Ginger beer is non-alcoholic and even safe for pregnant women (of course, always check with your doctor first since I am not one)! This stuff is worth every single penny.
Probiotics
You can get probiotics in many ways: yogurt, kimchi, kombucha. The most likely to be in our home is homemade kombucha. Regular intake of probiotics is a great remedy to improve digestion and boost your immunity.
Store-bought kombucha is the bomb but it is so easy, and way cheaper, to brew your own kombucha. Some even argue that it's healthier than store-bought kombucha, but I can't prove that statement right or wrong.
What I do know is when our house gets sicks and calls in from work, it's financially easier to pop open a homebrewed 'buch than buy a $4.00 'buch at the store.
Essential Oils
There's a lot of taboo around essential oils, and I'm not the best person to convince you that they're the only way to live. I have been using more and more of them in my home.
Ever since I found the Simply Earth Essential Oils Recipe Box I've felt like I actually understand how to use certain oils now.
I've even made my own blends for bug bites, headaches and tummy aches! My favorites are tea tree oil, lavender, coffee, and frankincense. You can read more about why I really love Simply Earth Essential Oils here.
If you'd like the try out the Simply Earth Subscription box (and I recommend it!), click here and use my code TGAHFREE to receive your BONUS BOX and a $20 gift card that you can use towards any purchase!
What do you use as a natural cold and sore throat remedy?
If you'd like a little more information on supporting your immune system, Suzan from It's My Sustainable Life has written an excellent informative piece on how to boost your immune system during the winter months.
Suzan not only excludes some of her favorite home remedies but also simple things to do in order to keep in tip-top shape!
Finally, always keep in mind that I am not a medical professional and can not diagnose you with anything. I can not, and will not, give professional medical advice. If you feel that something is wrong, please call the appropriate professional for your immediate situation.
Stay well this season, friends. It's been a cold one!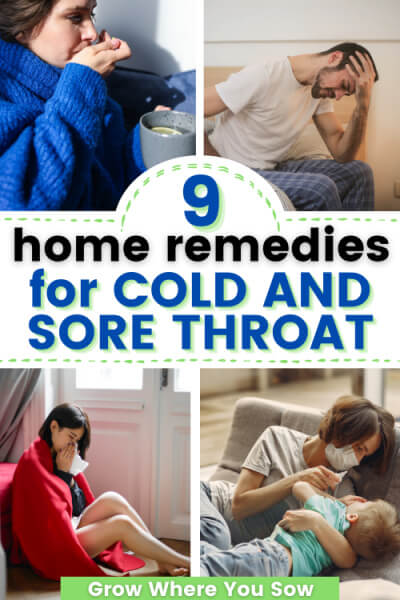 Related to the 'home' part of your homestead: