Homesteader's "How-To" guide on vacationing
When we closed on our homestead in January 2016 we thought our traveling and vacationing days were simply over; a life of the past. We were wrong! Consider this your own personal guide to vacationing.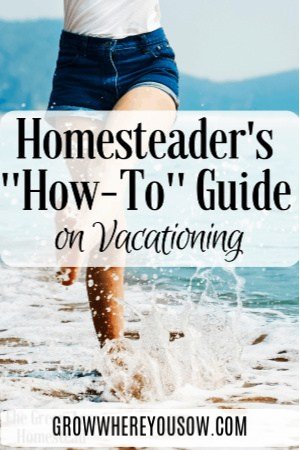 If you're wondering how to vacation on the homestead, this is your Homesteader's "How-To" Guide on Vacationing.
You see, before Emerson and I settled down into this way of living our lives were drastically different. We used to travel around the Southeast states and play music wherever and whenever we would have performances.
We had the freedom to drive from South Florida to Central Texas whenever we pleased. We've had to change a few things but we found out how to start vacationing again, all while homesteading.
The Guide to Vacationing
You should understand there is a certain amount of sacrifice you make when committing to the homesteading lifestyle.

Understand that you either commit to this lifestyle or you don't. (Personal advice, definitely commit to the lifestyle!)

Last, understand that your life outside of the homestead is not completely over. Now, reread that last one and let's get to this guide about vacationing.
How to use this vacation guide
That's where the guide to vacationing comes in. The first time we went out of town was pretty soon after we closed on the house. We had performances booked that we couldn't cancel and, at the time, we only had around 10 chickens and 4 ducks.
We were lucky because the fella who watched the previous owners' animals was the boyfriend of the woman's mother. The mother lived (and still lives) directly behind us. We adopted him as our farm sitter and, luckily, he knew the ropes. Outside of eventually changing a few details on how we wanted to do things on the farm vs. how the previous owners did, he was great, did his job and was VERY cheap – $10/day.
Eventually, it ended.
Eventually, we took on more and more animals. For example, we now have 40 chickens, 11 ducks, and 5 rabbits. Over the last two years, we've had more animals than that at times and fewer animals at times but eventually, the fella teetered out, had a few arm surgeries, and it was just too much for him.
Finding someone new to train was rather nerve-racking! If you do what I do and are a full-time, stay-at-home homesteader you know what your animals like, don't like, need, want, etc. I have my routine in the mornings and the evenings and like to do things the same way to keep my feathered and fibered friends on as close to a schedule as possible.
Finding someone to do exactly what I wanted them to was scary. I could've used a guide to vacationing from the homestead.
How to find a sitter
I heard a really great podcast a while ago that talked about finding a sitter on the homestead and thought "What a great topic". You don't often see blog posts on how to take a vacation while having a full-time homestead, so my guide to vacationing was born.
There are a few platforms you can use and we'll get to those soon but the best idea is to first approach your family and/or friends.
Platforms to use for finding sitters
Family
As mentioned earlier, our animals are like our children. I don't yet have children but I know that when I do I'll be finding the very best care for them if I ever need to leave them with someone.
My first pick will always be my mother-in-law. Luckily, she is who now watches the animals when we're gone, too. Luckily, she would use a guide to vacationing away from the homestead perfectly because she cares as much as I do.
Confront your family. Ask them if they'd be willing to come over and let you show them what you do every day. They'll always be the best candidates if they're willing to learn.
And hey, you never know, they might run off and buy a homestead of their own after it's all said and done! Of course, that would mean you might have to find another family member. If they do that, be sure to give them this guide to vacationing!
Neighbors
As Harold said, if you're homesteading, the chances are that you also live around many people who are also homesteading. Almost all of my neighbors have some kind of farm animal – chickens, goats, cows, etc.
Although I haven't had to approach my neighbors, and some people would feel very uncomfortable doing so, this is a truly wonderful option and had to be put in this guide to vacationing, of course!
Your neighbors will know if something is wrong and might even know what to do if they have animals of their own.
Think of the stress you'll throw out the window knowing that your animals are being taken care of by someone who is educated on the type of animal they are! And the cherry on top? They live next door so they'll be on time!
Sitter platforms
NOTE: I am not compensated in any way by promoting these outlets on my guide to vacationing away from the homestead.
Care.com

I've used care.com before as a house sitter and a baby sitter. When we moved onto the homestead I did go onto care.com to try to find a sitter just encase we ever needed a backup.

I highly suggest this platform from my past experiences. I'm confident that I was a great hire so I know there are other great hires there, too.


Rover.com

This was another platform that I almost used. I actually talked to a few sitters through Rover.com and they were all so great. I was planning a last-minute trip and we had just adopted our second dog, Hank.

I was worried about leaving the dogs home alone because of their anxiety and, at the time, I was between sitters as my mother-in-law hadn't yet moved down. I got lucky and our first sitter, the neighbor's boyfriend, ended up watching our animals.

But I will say that if I ever had to find a sitter again and family, the neighbors, and care.com didn't follow through, I would definitely use Rover.com


Sittercity.com

Sittercity.com is another one that I have worked through once or twice. People seem to be very vetted and honest.
Payment
When thinking about payment and vacationing, let the mindset of finding a baby sitter for the children you do or don't have guide you. Would you pay someone $5.00 to watch your children? No. We paid our neighbors boyfriend $10 a day in the beginning but that eventually increased to $15.
The only other fella we ever hired was a friend and coworker of Emerson's and we paid him $20-$25 a day AND he stayed overnight in our home, so there was no back and forth.
If someone you know, and trust, will do it for cheap or free then I would say TAKE IT! If someone you DON'T know will do it for cheap…I won't say decline but I will advise you to sit down with them and take the time to find out why they are willing to do it for cheap.
Why bother you may ask? Because someone who is good at what they do, and isn't your mama, is probably going to charge more money than someone who isn't. This vacationing guide isn't meant to be taken lightly, Y'all. Our animals are important and deserve safety!
I'm not saying you can't find a deal; a neighbor's kid might just do it for $5-$10 a day. I'm just saying be thorough, know who you're hiring, and make sure they care.
Other sitter outlets
I don't think it needs to be said that our pups are precious…but I'm going to say it anyway! When Emerson and I go on vacation I like to make sure that our dogs are taken care of. Currently, my mother-in-law comes over and watches our dogs when we're out of town. She'll give them treats, Oinkies (their favorite!), play outside and pet them.
If you don't have someone who might come over to hang out with your pups, I recommend to at least find a dog walker! I recently had someone share this wonderful website with me called "Your Dog Advisor" that has some really wonderful information on it!
This post in particular called "How to Find a Good Dog Walker" is a great, comprehensive guide to follow when you start to look for a dog walker. It brings up some great points that I've never even considered such as does the dog walker have insurance and what type of transportation they have for your pooch!
There are other outlets out there that I haven't used but will post below. If you have any questions, comments, or advice I'd love to hear from you! Drop a comment in the comment box below or send me an e-mail! Happy Homesteading, y'all!
Pet Sitting Outlets:
Related to homesteading: