How to start homestead blogging
So you want to know how to start homestead blogging? I think that's great! Homestead blogging can not only turn into passive income but it provides you a way to reflect on what you've learned, which is crucial to growing and moving forward.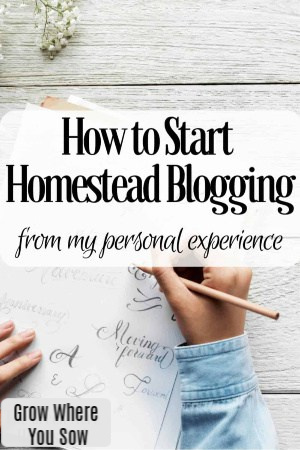 A how-to on homesteading blogging and how to do it when you don't know where to start.
If you're worried you won't have the time to blog, don't worry! I work a full-time job while homestead blogging and keeping up with the outside chores. All it takes is a little structure and dedication. Here are a few ways you can learn to start homestead blogging, with the exact amount of time you have right now.
1. Just start blogging about your homestead
The first step is to really just start writing about your homestead in your spare time, even if your original intentions aren't to put them on a live blog. You can start writing in a Word document, Google Docs, or even a handwritten journal.
It doesn't matter where you start documenting your experiences and thoughts, just start. If you have 10 minutes before bedtime that you're usually on your phone, put your phone down and write for ten minutes instead. Recapping your day, trials and tribulations will extremely helpful in the future.
2. Decide what your goal is
If you want to try and eventually monetize, you'll want to sign up with Wordpress.org and find a 'host' for your website. I've used SiteGround for years now and they fixed every technical problem I've had along the way. I highly recommend them.
My main goal when I started homestead blogging was to simply record our progress and hopefully help out other homesteaders one day, and here I am! Honestly, it was so hard to find homesteaders in my specific area. Once I started blogging, they started popping out of the woodwork.
Another goal of mine was to generate a source of blogging income so I wouldn't have to sacrifice too much time away from homesteading. I quickly realized the time commitment of monetizing a blog, so I found a few useful tools to help along the way:
You don't have to have goals of sharing your stories and writings with the whole world to start homestead blogging. It's just great to do because you're ultimately keeping track of what you learn.
Looking back, I wish I would've started a long time ago. But here I am, 2 years later, and I've helped handfuls of people begin their homesteading journey. If you have any questions along the way please feel free to email me!
3. Look for bloggers near you
Finding bloggers in my general area was a huge help. Not only was I building a community of like-minded people to avoid feeling lonely but I was learning quicker, allowing me to supply my readers with quality information.
It is so nice to have a friend help you problem solve! I hoped through this blog that fellow homesteaders near me would reach out and offer their insight and knowledge and they did. So when you start homestead blogging, try to find bloggers in your area as well as reaching out to ones that aren't.
I joined a great group of gals to host a blog hop and they've been a wealth of information and support. Only one of them lives in Florida!
Bloggers to follow and courses worth spending money on
There are a few great bloggers to follow when you start homestead blogging. And, what I mean by that, is I 100% believe I could have made my blog into a steady source of passive income if I knew about these courses and bloggers in the very beginning.
For the last month or two, I've been doing "clean up" on all my posts and pages. It's been a TOTAL headache But I just didn't know how to do things "right" in the beginning.
Here are my favorite courses (and bloggers) that I think every single individual should have when they begin:
For homestead blogging specifically: Victoria at A Modern Homestead
Victoria is so knowledgeable in regards to really all things blogging. From SEO knowledge to creating beautiful themes for your website (I use a theme she designed!), she started making a full-time income in 6 months by treating her blog like a business after her husband lost his job. Pretty incredible.
I recently bought Victoria's eBook/course "Make Money Blogging" and wish I would've found this book at the beginning of my blogging journey. It's affordable and she really breaks down everything you need to do when you first start a blog. From simply setting up your blog to monetizing it so it actually MAKES MONEY. PS) This is not an affiliate link, I just really love her course!

For all things Pinterest: Carly at Mommy on Purpose
Carly has been my savior for ALL THINGS Pinterest. She also has an amazing Facebook group called Blogging Like We Mean It that I couldn't blog without.
And, most recently, I learned about a private Facebook group subscription called Pinterest Masterminds where she SENDS YOU Pinterest templates every month and answers all the silly questions you have about using Pinterest. That might not seem very important to you now, but you'll soon find that templates are a HUGE life (and time) saver.
If you're a beginning blogger then I highly suggest you invest the money into Carly's "Pinteresting Strategies" book. I waited for a long time to buy this book, thinking I could do it myself. NOPE. Once I finally got it, my world changed. Using Pinterest as a business platform is not easy to figure out on your own. Again, that IS NOT an affiliate link. I'm just promoting the product because I truly believe every blogger needs to read that eBook.
Again, not an affiliate link. I've bought her eBooks Easy On Page SEO, Google Analytics Easy as 1, 2, 3 and took her FREE SEO Intro Course all in the last month and a half. Debbie is a wealth of knowledge with SEO.
I've been combining Debbie and Victoria's SEO tips with Carly's updated Pinterest strategies and my page views have increased already by 14% over the last 7 days! (July 1 through July 7).
Check it out:
Suggested courses to invest in:
Free resources:
To summarize how to start homestead blogging
If you're wondering how to start homestead blogging and you've found this post, I hope it's given you enough fodder to get started. Homestead blogging doesn't have to be difficult or time consuming, no matter what your ultimate goals are.
If you stick with it, you can produce passive income with affiliates and ad networks (I use Monumetric for my ad network and you can apply at 10,000 pageviews)! If I can help you in any way, feel free to drop a comment below, email me, or sign up for my newsletter!
Related to homesteading: