5 things to learn as a beginning homesteader
I do understand that a lot of people know many things when they beginning homesteading, and that's so great. If you're buying a homestead and know nothing like I did, here are the first five things I think you should learn first.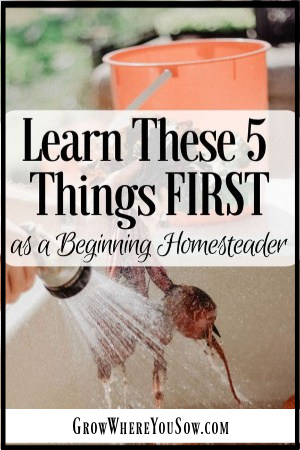 Before you start homesteading, you should know these things.
Me? I knew nothing and I truly mean nothing. I had to learn about raising meat animals or growing big vegetable gardens, and construction, forget about it! There was a huge learning curve but I got through it.
You don't need to be afraid of your chickens
Some of you may think this is silly, but it was a reality for me and I'm pretty sure I'm not alone (well, I hope I'm not!). I had never been around chickens. Ever.
Not once in my 23 years of life! When we bought our homestead the previous owner gifted us his chickens and I was so scared of them. I thought they were going to attack me the moment I stepped into their coop. Well, friends, they didn't.
Really, they couldn't have cared less about me! Don't be scared to pick them up or put your eggs under a broody hen to collect those beautiful eggs. You da boss, after all, I eventually was able to learn that.
TIP FROM A FELLOW HOMESTEADER:
The best way I've found to pick up a chicken is to very calmly walk up behind them and place each hand on either side of their wings, securing them shut. Pick them up and slide them under one of your arms.
If they start to freak out, and they will at some time in your life, grab them by the ankles and hang them upside down for a moment and try again! Holding them upside down calms them, but doesn't make them pass out so don't worry. You'll learn quick!
Power tools are now a big part of your life
This might also sound silly to some of you, but I had never used, or even held, a power tool. I was about as scared of my screwdriver as I was my chickens!
My advice to you complete beginners is to use your power tools! Whenever you have the opportunity, use your power tools and get comfortable with them. If you have friends that often build things, ask them if you can shadow them on projects.
Once you get to the point in your homesteading life where you're having to build things like rabbit hutches and garden beds, using a circular saw is going to be the most terrifying act if you've never used a power tool.
You don't want your power tools to be like a bad relationship – obligated to spend time with them but really don't want to. They're a big part of your life now, so find your favorite and learn to truly love them.
TIP FROM A FELLOW HOMESTEADER:
Although they can be expensive, I suggest to always have two batteries for your screwdriver! I can't tell you how many days I've been deep into working on a project just to have my screwdriver run out of battery with no backup.
You won't regret spending the money! I use a Dewalt Screwdriver and love it. You can buy the screwdriver I use here and it comes with two batteries and a carrying bag at a great price.
Compost is a life saver
I wish I would've learned to and started composting immediately when we started homesteading. Why? Because you're going to be using a lot of dirt! Also, where I am in Florida, the ground we walk on is just pure sand.
Compost is great for so many reasons but to keep things simple for this little article, it adds a plethora of nutrients to your gardens! Your plants will thank you. If you want to read about how much I love composting and how to keep it simple, check out my "Composting Made Easy"!
Fermenting feed is a good idea
I just started fermenting feed around May of 2018 and I really wish I would've known about it much earlier! Fermenting feed is so easy to do and it doubles your feed! For example, I buy a 50-pound bag of feed and it usually lasts me about 10 days.
When I ferment my feed, that same bag lasts me around 17-20 days. Pretty cool, really. It also adds nutrients to the feed and makes it easier to digest for your chickens. A major plus? Less stinky chook poo!
Irrigation is your friend
Along with composting, learning to set up irrigation is great for so many reasons. Not only does it cut down on time for you folks who don't have as much of it, but it also conserves water if you're system is working well.
Most people use the black pipe irrigation you can buy at places like Home Depot and I was one of them for a long time. Although I still use some of the black pipes on my trees, I use PVC in my gardens. I do this for a couple of reasons.
I personally hate dealing with the black pipe. Maybe I'm doing it wrong, but I find it hard to assemble certain parts. It's not bad enough to stop me from using it, though. I use the black piping on all my bushes and trees – places where the layouts will never move. This takes me to the second reason.
I put PVC in the gardens because I can move it around, add, and take away length and sprinklers when I need to like my garden layouts constantly change. There are benefits of using the black pipe over PVC and vice versa. I chose the PVC because I just find it easier to use for MY uses. Learn to use both and choose what you like best!
To summarize
To wrap this all up, homesteading while being a person who knows nothing can be quite aggravating and discouraging in the beginning. These 5 things are the things I either learned early on or wish I would've learned early on.
They're also 5 things I hope you all learn early on if you don't know them yet. As usual, I'd love to hear about your experiences and thoughts on your homesteading journey! If you already know these things, head over and read about 5 skills you can learn to save money on the homestead!
You might also enjoy…