Natural sources of nitrogen
Finding natural sources of nitrogen for your garden is an easy thing to do. After years of failed gardening attempts, I sent a soil test to my closest testing lab. It turned out that I was in need of nitrogen! Since I wanted to keep my gardens organic, I found 6 ways to add a natural source of nitrogen for plants.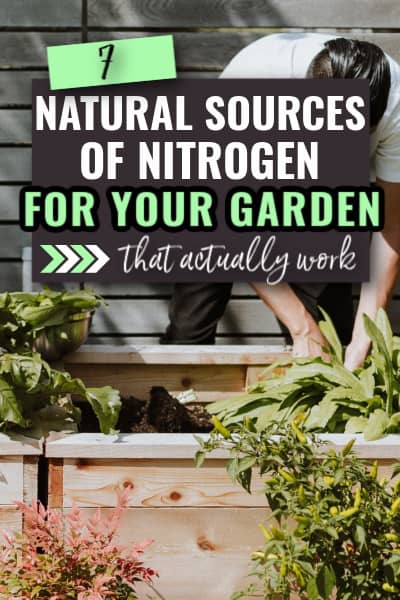 How to add natural sources of nitrogen to your backyard garden in 6 easy ways.
The best decision I ever made for my garden was sending a soil test to the UF Extension Soil Testing Lab. Receiving a complete soil test to find the levels of nitrogen, phosphorus and potassium in your growing soil is crucial in order to grow crops.
Once I learned that my gardens needed a nitrogen boost, my plant growth took off!
Whether you're a beginning gardener or a seasoned gardener, your soil needs natural fertilizers.
Bone meal and blood meal
Bone meal and blood meal are really great, natural ways to add a nitrogen and phosphorus source to your planting soil. You can buy bags of organic bone and blood meal at any garden store.
You can also make your own meals, which I'm planning to try in the next couple of weeks! I've been saving up bones for a while now and plan to make bone broth and bone meal. I plan to use this recipe by Salt in My Coffee called "How to Make Bone Meal". Pretty straightforward, I'll let you know how it goes!
Planting beans
This is one example of how to add a natural nitrogen source to your soil. Did you know different crops give and take certain things to and from the soil it's planted in?
By planting beans, you're adding a natural source of nitrogen for plants and the soil with no extra work or supplements! Beans are one of the best organic fertilizers out there. This makes beans a great planting companion for strong nitrogen feeders such as broccoli or cabbage.
Once I started learning and reading about gardening I just thought that was the coolest thing! That's why companion gardening is so important and can boost your gardening game BIG TIME. I, myself, am going to be practicing more companion planting this Spring Season.
Want to keep track of your harvest with my free homesteading PDFs and join the flock?
Coffee grounds
If your house is like my house then you also have an abundance of coffee grounds! Coffee grounds can be the best source of nitrogen for plants.
Coffee grounds don't immediately add nitrogen to your soil, though. Instead, they slowly break down adding organic matter and nitrogen to your soil.
Although adding organic matter to your soil can help with drainage, aeration, and water retention sometimes composting coffee grounds can be a better use of the source.
You can mix coffee grounds directly into the soil when planting or compost them – gardener's choice.
Leaves for mulch
Leaves also act as a good source of nitrogen for plants, provide aeration and can be used for mulch! Mulching is great because it helps with water retention, keeping your soil cool, prolonging the life of your soil and so much more.
It's easy to deal with mulch when you've used leaves because at the end of the season you can just mix the leaves into the soil! Presto! Organic matter AND nitrogen, all at once.
We tried to mulch this Fall season 2018 with this stuff called "EZ Mulch". I will NEVER do it again because I'm pretty sure there's some type of chemical on that stuff. I'm upset I trusted it because it only seemed to cause me problems.
Next time I mulch, I'll use a natural mulch for my plants.
Aged chicken manure
I know I already mentioned Salt in my Coffee but I'm going to do it again. Anna wrote a great article about the Deep Litter Composting Method called "Chicken Manure Compost in 18 days" and it's really wonderful.
Chicken manure is very high in nitrogen and can be one of the best and most natural sources you can find. You do have to let it age because it can "burn" your plants if you don't, and that's when Anna's method comes in handy.
After all, of all animal manures, chicken manure is highest in nitrogen!
Fish emulsion
Living in a fisherman's county, I'm surprised this isn't one of the most common sources for a nitrogen boost in backyard gardens.
You can buy liquid fish emulsion at your local Tractor Supply or garden stores. Due to its superior levels of nitrogen, you'll want to dilute it so you avoid burning your crops. The Spruce has a great guide on making your own organic fish emulsion fertilizer and what to look for.
I use SUPERthrive in my gardens with great success. SUPERthrive is a very strong fish emulsion fertilizer, packed with amino acids, sure to boost your edibles. I've used this liquid fertilizer on my cut and come again vegetable gardens and it would be a great addition to any victory garden.
Rabbit manure
Getting access to rabbit manure might be a little tricky if you don't have rabbits. If you know someone who does have rabbits, though, it could be easy and free!
Unlike chicken manure, rabbit manure can be added it right to the gardens since it isn't hot. If you add the manure directly to your gardens, it will act as a slow release organic fertilizer and assist in growing your crops all season.
Adding nitrogen to your backyard gardens in 6 natural ways
Well, there ya have it! These natural sources of nitrogen are easily accessible and won't waste loads of fossil fuels getting to your backyard.
No matter what method of gardening you're using to grow crops, these nitrogen sources can be used to boost plant growth all season. Let me know if you have any questions, comments, concerns, tips, tricks or what have you. I'd love to hear it!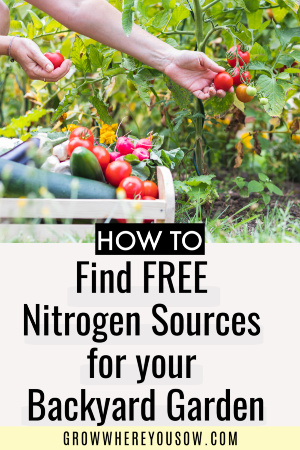 More on gardening: