How to say no to plastic and minimize waste
There are multiple steps you can take to say no to plastic waste. Today, I want to tell you how I fuel my fire and how I'm taking steps to reduce my carbon footprint.
5 ways to say no to plastic and start minimizing waste in your life today.
For a long time, I turned my head to environmental issues and my unconscious use of plastic items. I knew pollution was terrible and, although I didn't partake in the activity, I still wasn't doing much to help/fix the problem.
That is so embarrassing for me to put out there to the world. I turned my head, and you may have, too, at some point. If you're still turning your head away from the problem, I hope you slowly come back. I've come back and it's actually invigorating.
Step 1a: Read "Slow: Simple Living in a Frantic World" by Brooke McAlary
This isn't a required step, hence the 1A, but it's what is fueling my fire so I feel the need to share it with you. I listened to "Slow: Simple Living in a Frantic World" on tape and it has changed my world, and I am not exaggerating.
While listening to this book, I donated 5 loads of things such as shoes, shirts, handbags, books, etc. I've been inspired to slow down and take time for myself. To breathe, practice mindfulness, reduce my waste, and simply be aware of myself, my life, and life around me.
My home is less cluttered and I physically breathe better and feel calmer in my day-to-day life, which can get pretty crazy around the farm.
This book is not about giving all of your stuff away. It's about simplifying your life and slowing down to take in the beauty of it all. The author gives you tools to use and ideas you take as your own while on your journey to simplifying.
Step 1: Say no to straws
I think this one gets to me so deep because I've lived in Florida my whole life and almost everyone I know is a fisherman (or woman!), hunter, environmentalist, farmer, gardener, you name it.
This means the issue is brought to light quite often, even just simply from my Facebook feed. I mentioned earlier I used to turn my cheek and ignore the problem, but never contributed. Well, the one thing I've done for years is to use reusable straws. I'll tell you I've not always been as on top of it as I am now, but now is better than never.
There are so many fun options for reusable straws!
It breaks my heart to tell you that the type of straws I carry around with me has been discontinued, but at home, we use these. If I didn't have my current straws, I'd be carrying these cute things around with me EVERYWHERE! They ARE made out of plastic but they're reusable and seriously I'm convinced they're unbreakable. Update: 4 years later and I still use these straws. They're in perfect condition! No color fade, no cracks, etc. I use them every single day.
I used to hate metal straws, to be honest. They didn't make sense to me because metal gets hot and I wasn't interested in scalding my mouth.
Then I found these stainless steel straws and was SO excited! I use these for hot drinks because they have a silicone tip cover so your lips don't get burned! Plus, I don't want to put plastic in high heat.
Also, this pack comes with a carrying case, short and talls straws, a cleaning brush and both straight and curved straws which I really love. I like straight straws for smoothies and curved straws for iced coffee!
You can also buy pure silicone straws. My mother-in-law has wide silicone straws to use in smoothies and they're great. Silicone straws are also great for young kids.
A few friends of mine use pure stainless steel straws like these and then have silicone tips you can add to the straws if you want to.
Pro-tip: Make sure you grab a straw brush to wash your straws or you'll have some nasty stuff growing in there! Most sets come with a straw brush, but be sure to check!
Bonus Tip: You can also use reusable sandwich bags in yours and your families lunches! I use these. They're super cute and well made.
Step 2: Use reusable coffee cups
One of my favorite things to do is go out and get coffee at a local coffee shop. My mother is a coffee nut and, boy howdy, did she pass it down to my two sisters and me! She had a coffee shop when I was in high school and bought the nicest, organic, fair-trade coffee and that's when it all started. I think if there were a "Coffee's Anonymous" group, my little sister and mother would be candidates for sure.
Whenever I go out to get coffee I bring my reusable cup. I use an RTIC Tumbler because they're inexpensive but wonderfully made and keep my drink cold all day long.
Another favorite of mine is the Tervis Tumblers because they're double-walled and super cute. You can even customize them, adding handles and such. I have two large tumblers, one with sunflowers and one with gerber daisies on it. I also have a smaller tumbler with daisies and sunflowers. Can you tell I like sunflowers and daisies?
The yoga instructor I use online, based out of Austin, Tx (Yoga with Adriene), uses these cups called KeepCup and people seem to be crazy about them! It'll be the next cup I try. They're primarily glass but also have BPA free plastic options. I think I might put this reusable cup on my Christmas List this year!
Step 3: Do the doggy bag dance
This idea is one I'm really excited to take part in! Alright…it's not actually a dance but the heading of this paragraph was catching. We don't go out to eat too often but when we do, it's usually planned. I was so excited to hear this idea mentioned in "Slow".
When you're going out to eat, bring a small tupperware or pyrex for your leftovers. Usually, leftover boxes are styrofoam which is one of the worst materials out there. Styrofoam is not biodegradable or recyclable and takes 500 years to decompose!
Step 4: Skip the super store
As Brooke McAlary points out in her book, everything you need is probably already made. Always buy used if you can help it. According to an article by Roni Dengler, as of 2015, the grand total of all plastic ever made since 1950 amounts to 8.3 billion metric tons.
For example, I bought a bookshelf from Walmart the other day and that same day my mother-in-law's neighbor was selling a nicer, sturdier wooden bookshelf for only $5 more. I've always loved second-hand items and would often prefer them to newly made items. I feel that they're designed better.
The area I live in is thrift store heaven so there's really no reason I should be going over to the Wally-World and buying poorly made shelves. Another great perk of buying used is you can usually get the item you're looking for at a cheaper price!
Check your local Habitat for Humanity or Goodwill before you head to Walmart or Target. Also, remember to always donate or recycle when you can. That way other fine folks can reuse your items instead of them ending up in one of our many landfills!
Bonus Fact: "The U.S. has 3,091 active landfills and over 10,000 old municipal landfills, according to the Environmental Protection Agency."
Step 5: Do it yourself and use less
Do you love Kombucha? Are you tired of paying $5.00 per bottle? Well, you're in luck because kombucha is wildly easy to make and could also be a great experiment with your children.
If you have a large family, why not try to make your own detergent for the laundry?
This is my favorite detergent recipe. It's a non-foaming soap and you only need a small amount, I use one scoop on my regular loads and 1.5 on my larger loads. This detergent lasts my husband and me for the whole year!
If you're baking your own bread, then you aren't buying bread that comes in a plastic baggy. Another option is buying it fresh from a local bakery and bringing your own bread bag! This way you're reducing your waste, eating quality items, and supporting your small local businesses. Win, win, and win.
Bonus Step: Barter, borrow, rent.
I'm adding this step in because it was one I learned from "Slow" and I really love it (and want you all to read the book because it got an A+ from me!). I mentioned in a past post that my mother is the bartering queen. She barters for dinner, yard work, car service, eggs, or just anything she can possibly think of.
Bartering is not a new idea in my life, although I don't do it and should and will start! The things that aren't as frequent in my life is borrowing and renting. I've never thought to rent, say, a dress or China for my large dinner party.
The only things I've ever rented are an instrument and a car! Another great point McAlary made is about borrowing: we don't do it enough. You sometimes need items for just one occasion and then you have this one item you'll never use again cluttering up your home.
Check in with a friend or family member, they might be able to loan you that item.
Minimize plastic
I'm not instructing you to throw out all your plastic tupperware and furniture to buy different pieces. If you have it, you have it and that's that. No harm, no foul some would say.
But if we all worked towards purchasing less plastic products, buying used items, supporting our local shop owners, and making a conscious effort to slow down, be aware, and take steps in the right direction, we'll be right on our way to correcting some of the current problems.
My journey hasn't only been about minimizing my physical belongings but minimizing my everyday stress and busy mind. I don't have children yet but they are in the near-ish future.
I have goals I wish to hit before taking that step and the clutter and busy-bee-brain were really holding me back. My problems are fixed because I got rid of my stuff, and I have a long way to go with the rest, but I'm closer than I was yesterday and that's what matters.
If you're looking for more ways to go green, read "Reduce Chemicals In Your Home Today and Go Green!".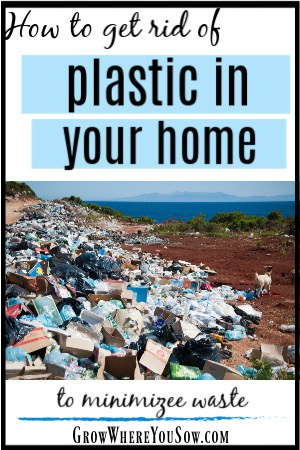 Related to reducing plastic waste: