Simple Homestead Blog Hop #178
Welcome to the Simple Homestead Blog Hop #178!
We're over halfway through October…it's almost unbelievable! My Fall gardens have sprouted and my experiemental watermelon is doing great, also! Let's get on to this weeks hop!
About the Hop
The Simple Homestead Blog Hop runs from Thursday morning to Sunday evening, so spread the word and spread the love. Share your best material and check out someone else's best material, too (maybe leave a comment letting them know you found them here at the hop!). Be sure to follow your hosts to let them know you're here, as well! Personally, I love to use blog hops as a source of pinning material for Pinterest. I find a few posts that I really love and pin away!
First, let's meet our wonderful hosts!



Kathi at

Oak Hill Homestead – Facebook – Pinterest – Instagram
Dash at Bloom Where You're Planted – Facebook – Instagram
Chelsea at The Green Acre Homestead – Twitter – Facebook – Pinterest – Instagram
Leah at Busy Gals Homestead and Leah's Lovely Lops – Facebook
Pinterest – Twitter
Nancy at On the Homefront – Facebook – Twitter – Pinterest
Each week our hosts feature their own picks from the previous week, so visit each host's blog to see if you've been featured!
This Week's Featured Posts from The Green Acre Homestead are:

If you were featured be sure to pick up your Simple Homestead Blog Hop button below! Just highlight all of the text in the box and paste into your blog post; the button will show up automatically.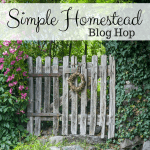 The Rules
You are invited to share your original homesteading, homemaking, and homeschooling posts. The rules are:
Family friendly posts only, please.

No links to blog hops or posts dedicated to advertising products.

Share up to 3 posts.

Please share posts that you haven't linked up within the past six months to keep the hop fresh.

If you would, please visit other bloggers and let them know you found them here.

Also, you can follow us by email and receive notice when the hop is open for business.

Only share content and photos that you have created or have permission to share.

Please note: By linking to this hop you are giving us permission to link back to your post and share one photo if you are featured; no additional permission is required.

*Posts that don't follow these few little guidelines will be deleted.*
Ready, Y'all? Let's hop!
**If you have any questions, don't hesitate to leave a comment below or email me at [email protected]!**