Simple Homestead Blog Hop #262
Simple Homestead Blog Hop #262
For those of you new here (Welcome!), Simple Homestead Blog Hop #262 runs every Thursday morning to Sunday evening, so spread the word and spread the love. Share your best material and check out someone else's best material, too (maybe leave a comment letting them know you found them here at the hop!). Be sure to follow your hosts to let them know you're here, as well! Personally, I love to use blog hops as a source of pinning material for Pinterest. I find a few posts that I really love and pin away!
Homestead happenin's
I have BIG NEWS to share this week! My eBOOK IS FINALLY HERE! I've been working hard to get this book together for you all. It's called "The Ultimate Homesteading Basics Book", it has 7 chapters, 50 pages and is truly full of the homesteading basics – right at your fingertips! Every host of this hop is featured in the book, and then some! If you're interested in learning more about this book, CLICK HERE! RIGHT NOW, PRESALE is happening and you can get 20% off using the code tgah20 TODAY through June 7, 2020 (Sunday)!
If you want 25% off the book, SUBSCRIBE HERE! You'll receive a code for 25% off AND access to the FREEBIES portal here! ALL EXCLUSIVE FOR SUBSCRIBERS!
Already know you want the book?
First, let's meet the blog hop hostesses!
Kathi at Oak Hill Homestead – Facebook – Pinterest – Instagram
Dash at Bloom Where You're Planted – Youtube – Facebook – Instagram
Chelsea at Grow Where You Sow – Twitter – Facebook – Pinterest – Instagram
Annie at 15 Acre Homestead – Facebook – Pinterest – Instagram
This week's featured posts on Simple Homestead Blog Hop #261!:
Be sure to grab your "FEATURED" image below! Just right click and copy or download!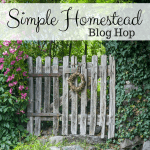 The Rules:
You are invited to share your original homesteading, homemaking, and homeschooling posts on The Simple Homestead Blog Hop 262. The rules are:
Family-friendly posts only, please.
No links to blog hops or posts dedicated to advertising products.
Share up to 3 posts on The Simple Homestead Blog Hop.
Please share posts that you haven't linked up within the past six months to keep the hop fresh.
If you would, please visit other bloggers and let them know you found them here.
Also, you can follow us by email and receive notice when the hop is open for business.
Only share content and photos that you have created or have permission to share.
Please note: By linking to this hop you are giving us permission to link back to your post and share one photo if you are featured; no additional permission is required.
*Posts that don't follow these few little guidelines will be deleted.*
Ready? Let's hop!
You are invited to the Inlinkz link party!