Single serve chocolate chip cookie recipe
The only single-serve cookie you should ever make, this chocolate chip gooey goodness is the best, most delicious quick snack. Pass the milk, please!
First, I want to tell you that I did not create this delicious single serve chocolate chip cookie recipe…but I sure wish I would've! This cookie is soft, chewy, delicious, and large enough to satisfy your sweet tooth but not leave you with guilt.
You can make one large cookie out of this recipe or two regular sized cookies…but why even bother?! I don't keep sweets in the house because I have barely any self-control when it comes to them so single-serve recipes are a great invention, in my opinion.
This recipe is also a great addition to movie night with your little ones! Pair it with a fresh glass of milk and you have a happy child on your hands. I hope you love this recipe as much as I do.
Let me know how much you love it below in the comments and then head over to Cooking Classy and let her know, she's the one that created this perfect recipe! I'm a fan of giving credit where credit is due! Check out some of her other recipes while you're there, you won't regret it. Enjoy!
*If you're looking for another delicious recipe, check out "The Best Dang Cast Iron Buttermilk Biscuits Recipe" or "Keto Grilled Cheese – The Ultimate Recipe"!*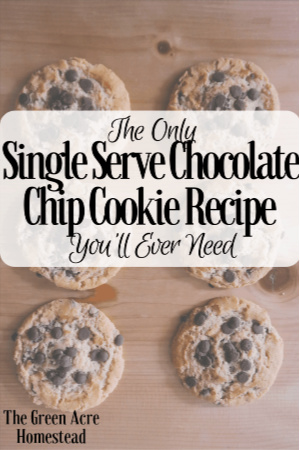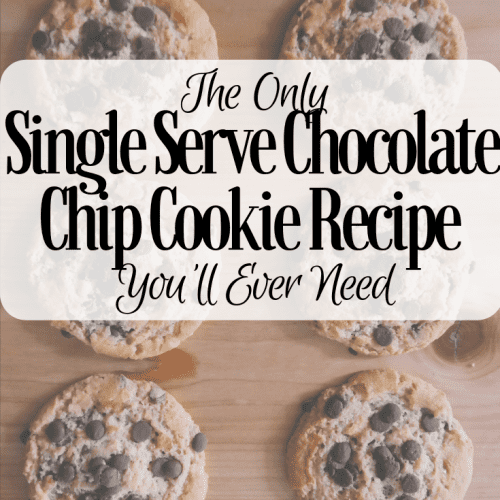 Single Serve Cookie Chocolate Chip Recipe: The Only You'll Ever Need
Ingredients
2

tbsp

salted butter

3

tbsp

packed light-brown sugar

1

pinch

salt

1

tbsp

whisked egg*

see notes

1/4

tsp

vanilla extract

1/3

cup

all-purpose flour

1/8

tsp

baking soda

1/4

cup

chocolate chips , divided
Instructions
Preheat oven to 350°F (180°C). Place butter in a microwave safe mixing bowl. Heat in microwave until nearly melted (you want it almost all the way melted, remove from microwave just before completely melted and stir to fully melt. You just don't want it too hot or it will cook the egg and melt the chocolate chips when stirring).

To melted butter, add brown sugar, salt, 1 tbsp egg, the vanilla, flour and baking soda. Stir with a spoon until well combined, about 20 – 30 seconds. Mix in 3 tablespoons of the chocolate chips.

Shape dough into a 3 1/2-inch disk on a Silpat or parchment paper lined baking sheet, gently press remaining 1 Tbsp chocolate chips randomly over top and sides of cookie. Bake in preheated oven 12 – 14 minutes, until cookie is golden. Serve warm or allow to cool on a wire rack then store in an airtight container.

*To get 1 Tbsp egg, crack egg into a small bowl, whisk until yolk and white are well blended, then measure out 1 Tbsp. Reserve remainder for another use (aka tomorrows breakfast).

Recipe Source: Cooking Classy
Notes
I always add a little something extra like toasted coconut or peanut butter!
*To get 1 Tbsp egg, crack the egg into a small bowl, whisk until yolk and white are well blended, then measure out 1 Tbsp. Reserve remainder for another use (aka tomorrows breakfast).
Recipe Source: Cooking Classy