I was outside one day and noticed sticktight fleas on my chickens. Growing up with cats and dogs, a flea, in general, was nothing new. I had see a dog flea and a cat flea, but these were different.
Sticktight fleas, or Echidnophaga gallinacea, are a species of fleas that burrow underneath the chickens' skin and are not easily removable. But I'm going to tell you exactly what I did, step by step, how to get rid of fleas on chickens. Sticktight fleas can control your happiness and your flocks. It's better to act quickly if you suspect your chickens have fleas.
What are sticktight fleas and how do you get rid of them?
After an extensive amount of research, I learned that hell on Earth can come in the form of sticktight fleas.
Although Frontline does kill sticktight fleas on cats and dogs (always contact a veterinarian, though), you can't take that approach with your chickens.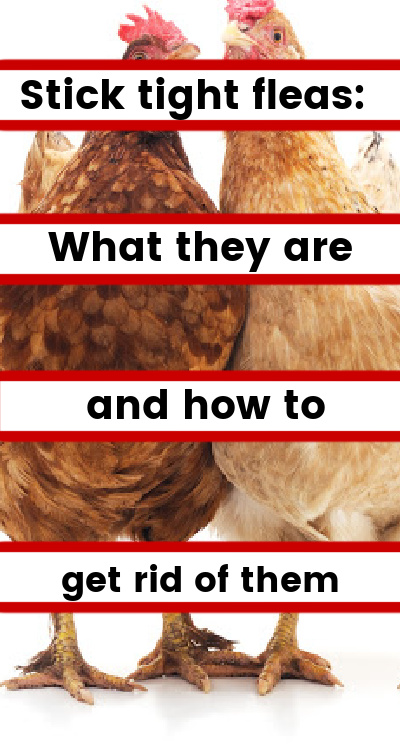 What are sticktight fleas?
In short, a stick-tight flea also referred to as poultry fleas, chicken fleas, stickfast flea or stick fleas, is a flea that burrows like a tick would. Gross, right?
Since they're a bit smaller than your average flea, they are a pain to remove, and, as your stereotypical flea does, they multiply rapidly.
Additionally, sticktight fleas are usually found attached in clusters. They'll attach mainly to the comb wattles on the head of poultry but can also be found under wings and around the vent area.
Although their alter-name is the poultry flea, they will attach to any host they can find. Outside cat + sticktight flea = sticktight fleas on cats' ears.
That means that sticktight fleas on humans are possible! You, me, the cat – it doesn't matter. As long as you have blood to suck and bare skin, a sticktight flea has a place to be. Double gross.
Are sticktight fleas dangerous?
The short answer is yes, they can be detrimental to your flock. Before I knew what they were, I actually had a rabbit die from being infested by stick-tight fleas.
The fleas suck blood as a tick does and will wear an animal down, preventing it from hunting or moving. My poor livestock were ultimately dying from blood loss.
If sticktight fleas go unnoticed, or worse, untreated you could very quickly have an uncontrollable problem and be forced to cull your whole flock. Having caged-bird systems can escalate the problems since chickens won't be able to dust bath/
Another thing to note is when an animal is the main host for hundreds of sticktight fleas, the animal becomes susceptible to other diseases from loss of blood and a crippled immune system.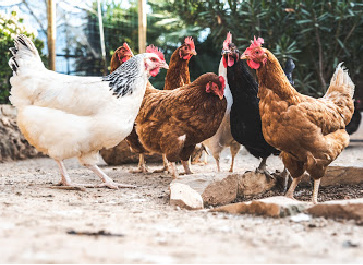 How do you get sticktight fleas?
They're carried by a host animal as any flea is. This host can be a squirrel or even the neighbor's dog if he/she isn't treated for fleas. When we moved onto our homestead, we inherited some hens from the previous owner.
Soon I realized we also inherited a rodent problem, which presented its own obstacles (including new hosts for stickfast fleas). Since the rodents eventually moved in with abundance, the fleas did too, creating flea-infested environments in no time right in my backyard poultry systems. Thankfully, I do not believe there is any reason to worry about something as serious as the bubonic plague, but adult sticktight fleas on young birds is scary enough for me.
In my particular case, I had to not only get my sticktight flea infestation under control but also a rodent problem at the same time, which I did successfully do.
Do chickens eat fleas?
The jury is still out on whether chickens eat fleas or not. In my experience, they do not seem to eat fleas. Fleas are very small and move quickly with their powerful jumping legs.
I believe they'd eat them if they had the opportunity, but I would not suggest that you plan for chickens to be your flea control. I've heard guineas will eat fleas, but if you have an infestation it might not be enough.
How to get rid of fleas on chickens
Sticktight fleas were the most aggravating thing to research. I wanted to know how to get rid of chicken fleas, once and for all!
I never found a chicken fleas treatment online that was organic, which made this all a very hard thing to deal with.
We try not to use pesticides or chemicals on our land, and this was the first time I had to look into what would be appropriate and safe enough to use within the living quarters. I read each product label of anything I considered using so as to not introduce lethal chemicals to my flock.
I'm here to tell you what I found through my research and, even better, how I've defeated the stick-tight fleas with this chicken treatment. I use this method year after year without fail.
Some years are more intense than others, so plan accordingly.
To begin, you need to determine which chicken flea treatment to use and determine if you have an infestation or not.
Note that if you're sure you have an infestation, my method might not be enough for your situation.
If you see fleas on your birds, usually on the head, comb wattles, and under the eyes or vent area you need to take action as soon as possible. Anywhere on the skin of chickens, really.
Look at your birds. Are more than two or three chickens completely covered in the little bug(gers)? Yes? You might have an infestation.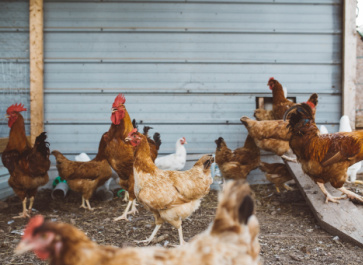 Sticktight fleas removal methods I read about
The majority of the methods I found were coming from individuals who didn't have many birds, maybe 5-10, and they were extremely hands-on.
I recommend you to use these methods if you believe you have an infestation that can not be handled with my method.
Treating the bird:
Catch your bird. Easiest done in the evenings while they're roosting. Smear vaseline (petroleum jelly) over the areas infested with sticktight fleas, being very careful not to get the vaseline in their eyes. This will smother and kill the fleas.
Dust your bird very carefully with food-grade diatomaceous earth, making sure you aren't creating a large dust storm as it can harm a chicken's lungs.
Folks have asked me if diatomaceous earth will kill sticktight fleas and my answer is no. I use DE to help the chickens dust bathe the dead fleas off, not to kill the actual fleas.
Once they've burrowed into the skin, DE isn't going to help very much.
After you've left the chickens for the night, come back and wipe off the vaseline and pull the stick fleas off.
REPEAT until your chickens are clear.
Treating the living quarters:
This is required in all methods. It was not enjoyable in any way.
Shovel out any and all bedding, nesting materials, etc. If you have a dirt floor, like me, this is going to be a big job. You need to shovel out the whole top layer of your floor. If you have a solid floor (wood, concrete, etc.) I envy you. Just shovel out whatever is atop that floor material and spray the floor down well.
BURN THIS BEDDING! Or haul it far away and put it in a HOT compost pile. High heat from the a compost pile can kill the sticktight fleas and the bedding is a great organic material.
Add all new bedding and nesting material along with a healthy layer of DE.
Choose a flea spray of your choice and treat the coop, while the chickens are away. Spray as often as needed until your flea problem is gone. I absolutely love Vet's Best spray because it's essential oil-based and safer than others I've found.

I use this spray in my home, around my rabbit hutches, and on my dogs' beds! If you're wondering how to remove sticktight fleas from your dog, this spray is a good first step outside of flea medication! Read my honest review of Vet's Best Spray and why I love it!

Other methods I read about
Most of the methods I read about involved applying actual flea and tick medication to the neck of your birds, as you would do with a cat or dog. I deemed it a last resort.
If you have an infestation, you may have to do this. I read about some folks having to cull their whole flock because the stick-tight fleas were so bad.
The most important thing is to decrease egg production in fleas. Understand the life cycle, kill female fleas so that you slow down the production of a new generation of immature fleas. Without decreasing or eliminating egg production, you'll continue to have a thriving flea population. Be sure to go after adult fleas and their eggs.
If you do choose to go the route of applying medication, be sure to do your research on doses and brands. You'll likely need to discard of your eggs for 2-4 weeks or longer when using that form of sticktight fleas chicken treatment.
Applying chemicals directly to your bird means it's soaking into their system; that chemical can also make it to those beautiful fresh eggs, unfortunately.
There are also methods where people bathe their chickens in a type of chemical dip. This, too, was not something I was willing to do unless an infestation occurred. My chickens would also hate me forever…it would've been a sight to see though, me trying to bathe my chickens!
I suggest you go to backyardchickens.com and search their site. I found the most personal experience stories there!
My sticktight fleas treatment method (that worked)
First, I followed the steps above to thoroughly clean out my chicken coop and dispose properly of the bedding so the little devils didn't come hopping back.
You HAVE to do this. Yes, it's no fun and the fleas are hopping all over you just mad that you're disturbing them.
Put your work pants on, slide on your rain boots, spray yourself with diluted tea tree oil (or even Vet's Best like I do!) and get to it! No excuses, Y'all.

Next, I bought Sevin Yard Spray and Vet's Best Flea and Tick Yard and Kennel Spray. I want to acknowledge that 'Sevin' products were recently said to not be safe for chickens.
After doing research, I felt this was the safest option in comparison to other options I found. I would've liked to battle these fleas naturally, but it just wasn't an option.

The chickens were never in direct contact with the spray and it's diluted as you hook it directly to a hose to apply.

While your chickens are out of the chicken coop, spray the new bedding/flooring with Sevin Yard Spray. Do this every day for two weeks, changing their nesting bedding often.

You can just scrape it to the floor and treat it. DO NOT SPRAY YOUR BOXES WITH SEVIN SPRAY. I feel I would've been a bad chicken mama had I sprayed their boxes. Please don't make your ladies sit in Sevin Spray.

Every evening as I picked up eggs and the chickens were roosting I sprinkled DE on the floor of the coop. I also lightly, and carefully, sprinkled the hens and roos if they'd let me.
I'd also sprinkle the nesting boxes while they weren't being used.

On your second week of spraying the Sevin Spray on the floor, add the Vet's Best Flea and Tick Yard and Kennel Spray into your routine. The Vet's Best Flea and Tick Spray is one of the best products I've found and a total blessing to my everyday life.
It's essential oil-based (chicken-safe), fights against fleas, ticks, and mosquitoes, and it's even safe to spray in your home! (You'll want to get the home spray, though).
I apply Vet's Best to my dogs' beds, my carpet, and my couch! BONUS: It smells wonderful in the house AND chicken coop!

After following the bedding and spraying steps, and sprinkling DE like it's your job, you should notice a drastic decline or a total cease in stick-tight flea activity.

If your flea activity has decreased, repeat these steps. If you repeat these steps and the activity is still high you might have an infestation and will need to take further measures.
How to treat the yard for fleas with chickens
Once you tackle the first situation of getting rid of the chicken flea, you'll want to take precautionary measures moving forward so they don't go back.
That means treating the yard, your dogs and cats, etc. Visit a veterinarian and let them know your poultry flea situation. You can also spray Vet's Best Flea & Tick Spray in your home and out in the yard.
I spray my home in the summer every 14 days even though my dogs and cat are on flea medication. Starting with their dog beds, the carpet and lightly misting the couch I spray once a month or as needed when flea activity increases.
Keep an eye out for fleas and act accordingly, seeking professional help if needed. I am not medically trained as a doctor, veterinarian, etc. This article is about a personal experience I had and is not meant to treat or diagnose your specific issue.
Products mentioned in this article that I love
Product
Name
Use
Vet's Best Flea and Tick Yard and Kennel Spray
Hook this spray up to a hose in your yard and evenly coat the infected area.
Vet's Best Flea and Tick Home Spray
Lightly mist the floor/carpet, couches, dog beds, etc. in your home to prevent or treat a flea or tick outbreak.
Vet's Best Flea and Tick Target Application Wipes
Use these wipes while you're hiking or out in the yard for an extra preventative from ticks, fleas and mosquitoes.
Sevin Bug Killer Spray With Hose End
I cautiously use this spray to treat stick tight fleas in my hen house. It can also be used in other areas of the homestead, such as the garden.
Food-Grade Diatomaceous Earth (a.k.a DE)
Generously apply DE to infected areas where fleas are present, or other pest insects.
BONUS PRODUCT!
Garden and Poultry Dust
Can be applied to poultry litter, floors, roosts and other interior services to treat outbreaks of fowl mites/live and poultry mites. I personally use this product on my homestead to control ANTS!
No more sticktight fleas!
95% of my chickens are sticktight flea free! The ones that do still have fleas on them are the broody hens that haven't dust bathed the dead fleas off.
Everything you'll read will say that you absolutely have to pluck each flea off of backyard flocks. I promise there are easier ways to get rid of fleas on chickens.
In my experience, this isn't completely accurate. My flock has access to a large grazing area and Florida has some really gritty sand. Since they sand bathed, I never picked a single flea of my ladies, although I would if I had to.
I still apply the Vet's Best spray once a week to every 14 days as a preventative because it's safe and smells wonderful. In addition, my cat and dogs are treated for fleas and ticks to cut down on the number of host options the fleas have.
If one or two fleas catch a ride on me into the house I know they'll soon be done for. If you have any questions for me, comment below! And remember, sticktight fleas are not the same as your regular, typical flea.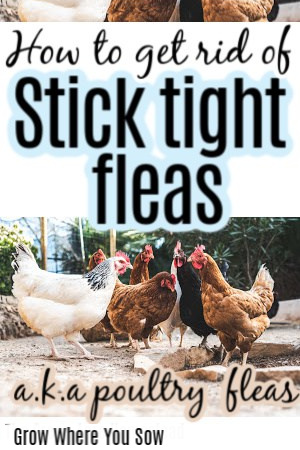 Related to chickens: