Tips for a stress free holiday
Holidays are stressful but they don't have to be. Every year I give myself pep talks and stress free holiday tips before family comes into town. Here are 10 great tips for how to have a stress free holiday this season.
Learn to have a happy holiday with these tips for a stress-free holiday season.
While you approach the holidays this year I invite you to join me in focusing on the self growth you've achieved over the year.
It is so hard to fall back into bad habits and your growth is important.
Remember to breathe this holiday season and slow down when needed in order to achieve a stress free holiday.
Stress free holiday planning tips
1. Plan ahead
I try very hard to do this one but admit I often fail. My family isn't good at following a plan, especially when we all get in the same room at once.
This year, instead of planning activities each day, I'll have a list of activities we can choose from.
This way we can see what everyone wants to do first and then go through the list to see which activity matches the group. If you know already what your family enjoys doing as a group you can try to plan daily activities.
You can plan hourly or just have a general idea of Breakfast –> Showers –> Activity –> Lunch –> Activity –> Dinner and then just plug in the activities.
2. Delegate
Delegating is very hard for me. I like things to be just so. Add in a handful of family members and I totally forget how to have a stress free holiday season.
Over the last year I've been working on learning to delegate and ask for help. I'm hoping this holiday season I can force myself to sit back and allow people to help with the simple things like washing dishes, taking out trash, etc.
Delegating is one of the best holiday tips to keep in mind. Not only does it take the stress off your shoulders but it creates an avenue to bond and present a new level of trust.
Even though the holidays are filled with family members, often life long, it never hurts to rekindle trust in a relationship.
3. Set expectations that are realistic
After you finally decide to delegate, remember to then set realistic expectations.
If you're like me and like things just-so then you have a hard time with things aren't done your way. Keep in mind that you can't be in the kitchen prepping dinner and in the garden harvesting salad greens.
You've delegated, now tell yourself it is okay if something isn't done YOUR way. It'll still be done and you'll have a little less stress to worry about.
Tips for stress-free holiday meals
Get instant access to the Digital Holiday and Celebration Organizer!
4. Prep ahead of time
If you go to the grocery store to the frozen food section, you'll see an assortment of different dishes. You're also able to freeze most dishes ahead of time!
If you prefer not to go the frozen route, try to block some time a few days before your big meal to make or prep dishes ahead of time. Delegate dishes to family members who live close enough to help.
For example, my mom always makes Christmas cookies and a pie, my mother-in-law makes the pumpkin pie, Uncle Bobby makes his famous apple pie and my sister makes a chocolate pecan pie.
5. Make-ahead freezer dishes
Since most folks like a nice fresh meal on the day of the holiday, focus on preparing other easy meals for other days.
Have a few different dishes prepared and frozen, ready to just pull out and be popped in the oven.
The following are great options for freeze-to-bake:
Soups, stews and chilis. If you love using your slow cooker, prepare a few of your favorite recipes ahead of time and freeze them in these reusable freezer bags using these handy stands.
Casseroles and pot pies. Pot pies are easy, freeze ahead meals the whole family will love. Casseroles fall right in line, being one of the easiest freezer-friendly meals. I like to prep my meals and freeze them in these amazing Pyrex glass storage containers. I can take them out, thaw to room temperature and pop them right in the oven!
Mexican dishes such as enchiladas, burritos and tamales. I've made enchiladas and tamales in bulk a few times in my life to freeze and eat later. Tamales are a great family dish and easy to pair with quick sides. Enchiladas and burritos are heavier dishes that are sure to fill your family up quickly.
Marinated meats. It's never a bad idea to have marinated meats on hand for your slow cooker, fajita night, taco night, etc. Containers like these are great because they're stackable with airtight lids, making marinating a breeze.
Dishes that are easy to prep and prepare
Other dishes that you might not want to freeze ahead can be prepped to prepare. This way when dinner time rolls around you can pull out all your ingredients, throw them all together and you have a meal!
Some great prep and prepare options:
Taco night. Prep all sides such as diced tomato, shredded lettuce, sliced onions, etc. and store them in little Tupperware. If you don't mind what the table looks like, you could also just serve the sides in the same container instead of transferring them to bowls for the taco bar!
Pasta dishes. Pre-make the noodles and sauce and put them in Tupperware! Ready to eat? Reheat and serve! Leftover meals are the best.
Sloppy joes or pulled pork. Another great leftover meal, you can prep the meat and sauce separately or go ahead and prepare them to reheat the next time. Add a bun and a quick side and you have a meal!
Salads. There are so many different ways to eat a salad. In fact, a salad can be a whole meal! Pre-cut the lettuce and other toppings and pre-make the salad dressing, allowing you to throw your salad together in under 10 minutes.
Burritos. If you don't like frozen burritos, no problem! Prepare a pot of beans, rice and meat if you'd like and just keep tortillas on hand. Burritos are a nutritious, quick, handheld meal for busy holiday families on the go.
Feeling overwhelmed?
Use my Digital Holiday and Celebration Organizer to plan your meals, grocery lists, who's doing what, etc. It's a free Google sheet that will help you have less stress and less work, with more organization EASILY.
Get instant access to the Digital Holiday and Celebration Organizer!
6. Outsource/delegate
It's a large misconception that holidays mean you have to home cook every meal and dish.
Even more so, many individuals feel obligated to provide homecooked meals if they're the host, hosting in their own home.
Let's break this mentality down real quick, though. Let's say you're hosting a pot luck meal at your home. It's likely that some folks are swinging by the nearest market and picking up a prepared veggie tray or fruit platter.
If you've had a stressful week (or year!) and just don't have it in you to home cook every side dish and main entree, consider supporting your local eateries, bakeries, restaurants, etc.
Local bbq joints often offer party platters of meat and I bet your local bakery makes a mean pumpkin pie!
Not only will supporting your local businesses make you feel good about doing something good, but it'll increase your stress levels.
As far as stress free holiday tips go, this is one we should all consider keeping in our back pockets.
7. Don't start a diet
It's October and Halloween is tomorrow. You know you'll be eating at least a lb of candy and tell yourself you'll start your diet the next day,
Do not do that, folks. Now, just because I'm giving you this advice it doesn't mean I'm perfect at following it.
What's more stressful than sitting down to a meal and feeling like you can't eat anything on the table? There's no reason to over-induldge, but don't restrict yourself to only eating certain items suddenly just because it's the holidays.
Be mindful, eat mindfully and enjoy just enough to feel good about it all.
8. Don't break your diet
Now, on the other hand, if you've already been following a certain diet or lifestyle try not to totally break those good habits just because it's the holidays.
Just because Nana Jay is eating 4 rolls it doesn't mean she's challenging you to eat 5. Or maybe Nana Jay is a pistol of a woman and she IS challenging you. EITHER WAY, don't give in to those delicious, buttery rolls.
Instead, plan ahead and prepare an alternative dish that you can enjoy in place of the rolls. Take that, Nana Jay.
Stress free holiday entertaining tips
9. Be able to say no
For years, when I asked folks what their best tips were on how to have a stress free holiday they'd tell me "Say no".
I like to be a "Yes (Wo)Man", meaning saying no isn't something I immediately result to.
But this means you're subjecting yourself to overscheduling and overwhelming stress and pressure to get an unrealistic amount done.
If someone asks you to do something that you truly do not have the time for, just say no. Alternatively, if you've been asked to do something you'd truly enjoy then consider delegating other responsibilities to someone else.
10. Wake up and take a moment the morning of
On the morning of your big event, wake up and plan something small for yourself.
Fan of early morning runs? Plan a sunrise job to start your day right. My preferred morning routine is to start with a Yoga with Adrienne Sunrise Yoga session.
After waking up and stretching, I feel brand new. I've set positive intentions for the day and feel confident about maintaining a level temper and a reasonable level of stress.
If physical activity before the crack of dawn isn't your jam, then just wake up and take your cup of tea or coffee outside and sit. Listen to the birds and smell the crisp, morning air as the sun rises to meet you for the day.
I promise that the birds and rising sun will agree with your intentions to have a stress free holiday season.
Stress free holiday tips: Summary
Remember why you're doing this in the first place
Remember why family is coming into town. We gather each year to celebrate the love, the growth and the unity of family and friends.
Write down a list of what you're thankful for, who you're thankful for. It's so easy to forget the reason for the season when stress creeps in.
What do you do during the holidays to reduce your stress levels? We all experience stress in different ways and for different reasons.
With these stress free holiday tips at your service, you should be one step closer to a happier, holly-er and jolly-er Christmas (or whatever holiday you're celebrating this year!).
Don't forget to pin it for later! Stress free tips never get old!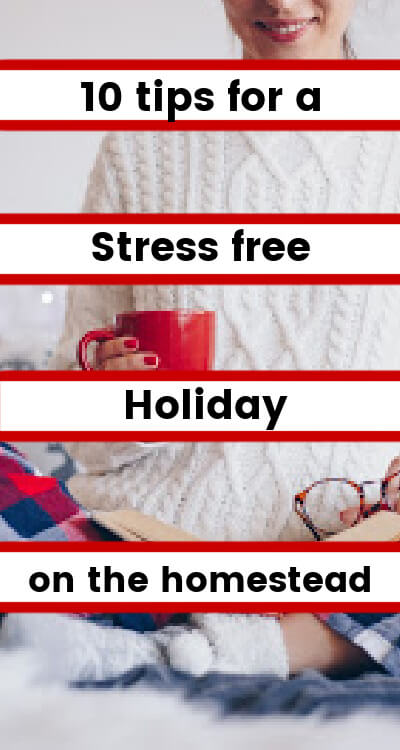 Related to holidays on the homestead…