Ten ways to make extra income on the homestead
I always wondered how to make extra income when I first started homesteading. Extra income covers things like better quality feed for your animals or the resources to extend your animals' grazing lots, etc. Here are 10 ways to make extra income on your homestead.
How to start making extra income on the homestead with these ten ways.
There are far more than 10 ways to generate passive income, like starting a homestead blog, for one (ask me how I know!). After reading about these 10 great ways to make money, do a quick Google search. I know you'll find plenty of more accessible ways to put a little cash in your pocket!
Some of my favorites on how to make extra income are:
Anna wrote a perfect post because it is specifically for small homesteaders, which is what I am and why I liked it so much. I really loved the garlic seed idea because I LOVE garlic, come from a family who loves garlic, and has a mother who's somewhat of a "garlic brat".
Sarah mentions "services" in this post which I thought was pretty clever and something I'd never seen anyone suggest. Although they would be long-term goals for me, some of them are things I look forward to trying one day.
Again, a lot of these are long-term goals such as raising bees or breeding sheep, goats, cows, etc. The short-term goals I have to fulfill off of this list is number 25, "Put your knitting or sewing skills to work and create homemade hats, gloves, scarves, blankets, and more" and number 37 "Start a blog or website" which is what I am actively doing at this very moment (THANK YOU for reading!)
I am not being compensated in any way by mentioning the bloggers above. They're just a few of the homestead blogs I've found that much of my inspiration rooted from.
Other great ways to make extra income on the homestead
Some of these are ways I maybe haven't used myself but would absolutely take advantage of if I saw a neighbor offering the service! Let's get started.
Trash Removal
Do you own a truck? A trailer that can attach to your vehicle? Put it to use! I can't tell you of the constant pile of "trash" I have in my front yard and slowly shove in garbage cans for pick-up.
The previous owners burned everything in the fire pit but I'm not keen on burning plastic around my animals.
Build and install garden beds
I have to hand over credit to my mom for this idea on how to make extra income on my homestead. Have you ever built a raised garden bed?
I've built a lot of them, even in my short two years of homesteading. They can be so easy to build (depending on the design).
There are people who want to have a garden but don't want to put in the work to start – you can access that market and make a pretty penny doing so. I plan to possibly utilize this idea within the year!
Wreaths during the holidays to make extra income
You might be thinking "What?" on this one but hear me out! Do you own grape vines? If you do, you know the major pruning jobs that you do yearly and the product of those pruning sessions.
Vines make beautiful wreaths. You can order simple things to decorate them with from Etsy or sell them undecorated.
All you have to do is loop the dried wines around and around and Voila! A handmade wreath. This would be a big Spring and Christmas seller if you added some sunflowers or mistletoe!
Pine needles
This idea might be location sensitive but I wanted to mention it anyway. I live in Central Florida and we have some really amazing pine trees here.
Actually, when my husband and I bought our home the previous owner "gifted" us her pine needle picking business.
She picked pine needles and sold them to basket weavers! We did this for a short time on our homestead to make some extra income but soon realized our time would be better spent learning about animal husbandry and gardening.
You can also gather pine needles and sell them for mulch! It makes a beautiful addition to walkways in a garden space.
Selling eggs
An idea that is on almost every list, but such an easy one that I'm adding it to mine…and come to think of it that might be why it's added to all the others, too.
We sell our eggs to friends and neighbors. Honestly, the income isn't large but it does cover the cost of feed, which is helpful in the long run. If you have extra eggs, you can make extra money!
Clearing debris
Do you have a chainsaw? A tractor? Again, a truck? I recently put my husband to work clearing our side lots to prepare for any animals we might add to our home in the next year or so (*cough, cough – goats*).
I can't say it enough, I'm so thankful he is doing it because I didn't want to and I might or might not have been searching to hire someone to do it for me, you'll never know.
You could make decent money clearing, weeding, chopping down small lots for people and extra money if you haul it away for them in your truck!
Installing hoop gardens
We installed hoops on our gardens this year to extend our growing season and deter pests since we don't use spray our crops. Installing hoops on a garden bed is really quite easy and not to time-consuming.
You could market it alone or as an add-on after you finish building all your neighbor's garden beds. "Make Extra Income" posts also always mention selling hatching eggs.
We'll be applying this service to our homestead list of "Services Offered" next year as we are currently raising our breeding stock of Dixie Rainbow Chickens.
Pet sitting
The Prairie Homestead mentions this method in her post on making income on the homestead. We have two dogs that we adopted from shelters and only want to provide the best care for.
Luckily, currently, that care comes from my wonderful mother-in-law (who reads all my blogs and is super supportive, Thanks Ma!).
I will say, if we didn't have The Ma then I would be seeking a good pet sitter. If you already have a homestead I bet you already own animals and know how to properly care for them. Monetize that expertise!
Irrigation
Let's go back to the hoop garden bed idea. Some people hate installing irrigation. Alright, I hate installing irrigation, I'll admit it. Although I don't look forward to installing it I still do because it is just a wonderful addition to my morning chores.
Irrigation can save time, energy, and if done right can even conserve some water. I used the black pipe irrigation at first but replaced it with PVC pipe.
You'd be good at making income on your homestead installing irrigation for people if you're good with irrigation.
Well, there you have it. Make that extra money!
Do you make extra income on your homestead? I'd love to hear about it and even see pictures! If you ever utilize any of the ideas mentioned above, tell me about that, too.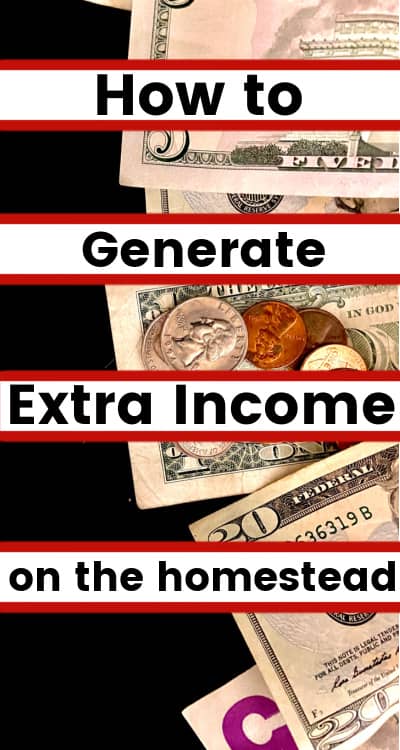 Related to homesteading: