The best garden planner you'll ever find and why I love it (and use it every year!)
I'm here today to tell you about how I plan my gardens year round and why I love my garden planner!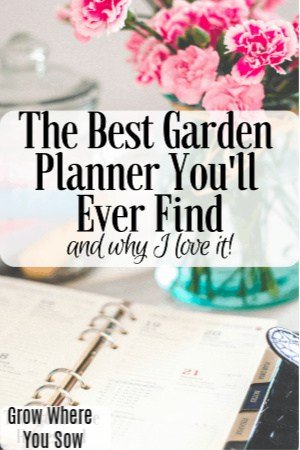 Do you have to have a garden planning program?
No, you don't need it. I'm still relatively new to gardening on a large scale and I'm just now getting the hang of my zone's weather format. So, for me, a garden planner was something I really wanted and almost needed. I looked around for a while, thinking I would maybe make my own.
The problem was there was so much information I needed at hand: companion gardening, a way to keep track of where I planted what as to rotate my crops, seasons for the crop because I often had no idea, etc.
I would say that anyone new to gardening should find a planning software they love and use it to start. You won't regret the decision.
Is planning a garden hard?
Yes…and no. Don't you love that type of answer? If you're planning your garden with no large intention such as preserving your harvest to have year around, I think that gardening is much more simple and can be done without a planner.
I find that planning a garden becomes a little more difficult when you have the intentions to preserve that harvest to fuel you and your family year round. You want to plant short-season crops together so that when they're done, you can pull them up and replant something new in their spot.
This way you maximize your gardening and growing ability. You want to make sure you have enough of the crop to eat and also preserve.
Companion planting and rotating your crops can come in handy when you're gardening with intentions outside of (but not to exclude) gardening just for fun.
How do I keep my gardening hat on straight?
The answer is The Old Farmer's Almanac Garden Planner, a.k.a the best garden planner around! I want to start off by saying that I am not an affiliate for this program so, if you utilize these links, it is of no benefit to me. I just personally love this program and feel it could be a wonderful tool for many gardeners and planners out there!
1. I can have multiple garden plans going at one time. Now THAT is the best! I have three spots where my gardens are (which I don't particularly recommend): front, middle, and front yard gardens. My front gardens hold my perennials, like my asparagus. The middle gardens grow my seasonal vegetables and the 'front yard' gardens hold all of my vining vegetables and fruits. My planner looks like this:

2.They have a companion planting feature that makes my life so much easier! No more hopping back and forth from page to page on Google trying to figure out what plant is best paired with my broccoli. Here's an example below. The crop I selected is broccoli.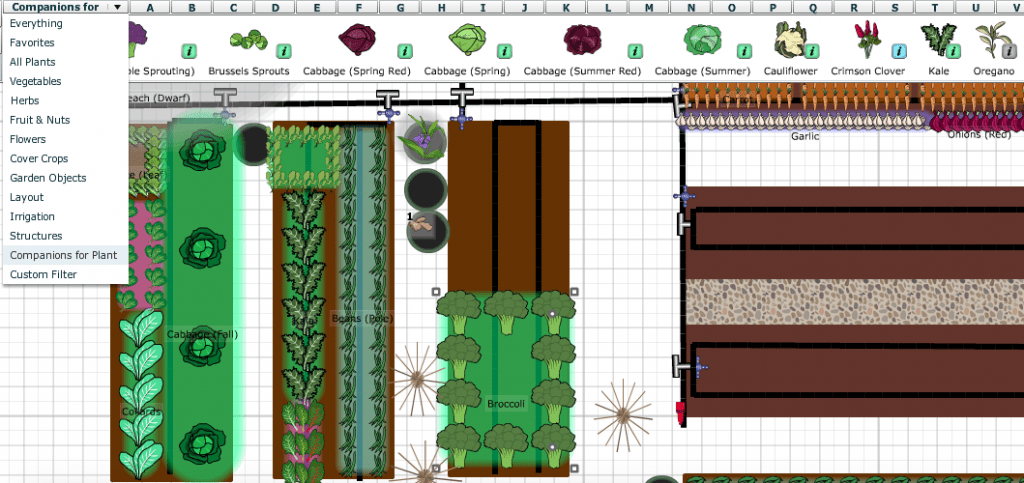 3.Once you plan your crops, you can specify how long they're in the ground right in the planner, that's why it's the best. So if I plan to plant my broccoli in November and pull it up in January, I can record that crop specific detail. You can view your gardens by month. If I choose "October", I won't see the broccoli as a crop. I view any month from November to January, it'll show my broccoli will be in the ground during those months. (#best garden planner)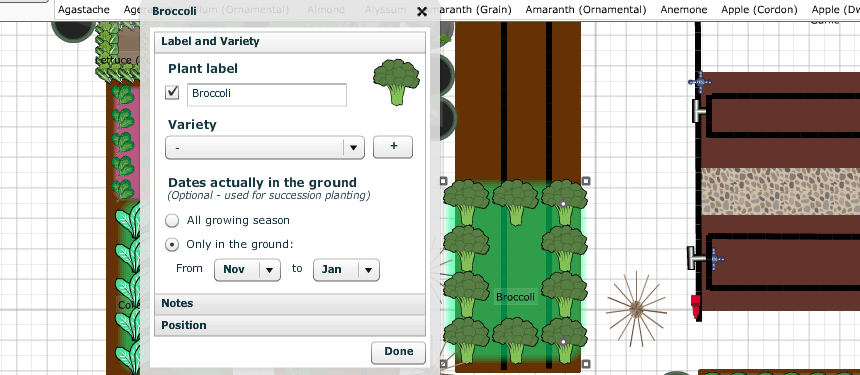 4. Once you finish planning your best gardens ever, they have a "Plant List" feature that tells you what you're planting, how many of that specific crop you're planting, and when to sow indoors, outdoors and harvest. It looks like this:

5.Finally, I love that they make crop rotation so much easier! While planning for next season, if you select "Broccoli" again, it'll show you where you should not be planting broccoli! You'll see I've selected a little broccoli plant is where the beds are red is where I will not be planting it.

Are there other awesome features in the best garden planner EVER?
There sure are!:
You can specify which variety you're growing.

You can click the "Info" button on a crop and it'll tell you all about that crop: Rotation group, preferred soil type, position (sun or shade), if it's frost tolerant, perennial or not, feeding schedule, companions, spacing, when to sow and plant, notes, harvesting, and troubleshooting. It's all right there for you in one spot at the click of a button in the best garden planner there ever will be.

While looking for crops within the program, you can either search through "All Plants" or you can choose to just view something specific: vegetables, herbs, fruit & nuts, flowers, cover crops, garden objects, layout, irrigation, structures, companions for plants, or even a custom filter!

As I mentioned above, you can also add structures and garden objects. In my pictures, you'll see I've planned my irrigation and my beds in the software. So not only can you plan the crops for your gardens, you can plan the actual layouts!

 Finally, although small, I love that the program automatically and periodically saves your works as your working. The Old Farmer's Almanac Garden Planner also has a wonderful print option, which I use to bring my layout outside while I'm planting to make sure everything is going into the right spot!
Let's sum it up and get to planning!
I've always loved to garden. Once I found this planner, it took a world of worry off my shoulders and let me take steps to plant my best gardens! Planning my victory garden was the easiest task. I'm a planner and I was trying to draw everything by hand in the beginning, it just was not sustainable. Every season I plan and print my layout and save it in my Homestead Planner.
My gardening game has really been kicked up a notch and it's all the thanks to this planner. Do you use a garden planner? How do you keep your gardening hat on straight? If you use The Old Farmer's Almanac Garden Planner, I'd to hear about your experience!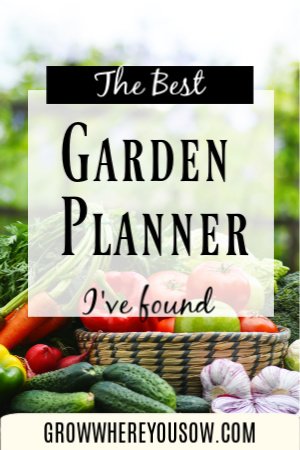 Related to gardening: