Weed cloth for cheap or free to use on your homestead
Florida has some hardcore weeds in addition to the sandy soil so weed cloth is a must-have.
We've tried many things on our homestead to suppress these weeds. I'm here to tell you what we've tried, what I've liked the most and how to use weed cloth.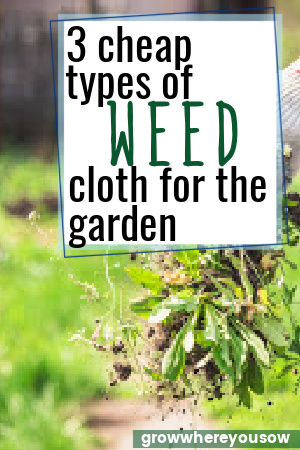 3 types of weed cloth that are cheap (or free!) to use on your homestead.
The best part about these cheap weed barrier ideas is that they're easily accessible! Being frugal on the homestead is super easy if you know where to look.
Let's get started!
Feed bags can be great weed cloth
Okay, so these aren't exactly free but you can get them for free from other people or just repurpose the ones you have! Free enough for me! I've been using my empty feed bags to lay between my garden walkways to stop the grass growth, which might as well be a weed (especially in the Floridian, rainy summer!)
The feed bags seem to stop growth from coming up through them, but our grass just grows sideways and pokes up and around. The perk of using feed bags as a weed barrier is that they'll last you a long while, especially if you cover them with pebbles or mulch to protect them from deteriorating under the sun.
There are so many other ways you can repurpose feed bags outside of weed cloth, too! Here's a post with plenty of great ideas. Number 13 seems familiar, doesn't it?
Newspaper
When we planted our blueberry bushes we covered the base with pine chips. The pine chips were great until the weedy grass came popping through! I raked all the pine chips off and put a few layers of newspaper down to act as weed cloth since we had an abundance of it.
This worked great for a while but, I'll admit, just not as long as I would've hoped. I can't say for sure if it was a defect in my newspaper laying, our Frankenstein grass, or just that newspaper doesn't quite do the trick long term.
I will definitely use the newspaper as weed barrier again and think it would work wonderfully in our raised beds. As far as laying down newspaper long term as a weed barrier for something like our blueberry bushes, if I do try it again, I'll put about 8 or 9 layers instead of 2 or 3.
Cardboard
Dear cardboard, how I love thee. Using cardboard as a weed barrier has been the best we've tried yet, and I've put money into "real" weed cloth!
Two and a half years ago, when we were building our raised beds, we layered a healthy layer of cardboard and put our soil atop it. I just recently (Summer 2018) started having a few weeds poke through that cardboard. Just a few though! Cardboard is my top choice because:
You can often get it for free from stores like Walmart or from neighbors.
It's biodegradable! (be sure to remove all tape and try not to use the dyed cardboard)
It lasts years!
To properly install cardboard as weed cloth, lay the boxes flat, overlapping each box to ensure there are no gaps. Water, water, water that cardboard until it's nice and saturated and then add your soil. Plant away! This method also works with the newspaper.
How to find cheap or free weed cloth
You can use so many outlets to find cheap weed fabric items like free newspaper or cardboard, or even feed bags depending on your area! Freecycle.org, Nextdoor.com, Craigslist.com, Facebook Marketplace. Even your local county Facebook groups are great places to start looking for cheap types of weed barrier.
If you use any of these cheap weed barrier ideas share your experience with me down below in the comments. I wish you the best of luck in all your gardening endeavors and look forward to hearing from you!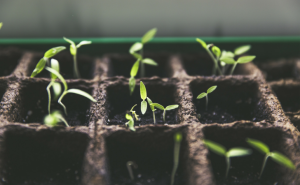 Related to gardening