6 Reasons to Downsize Your Homestead
I think it's a common misconception that in order to homestead you must "have it all" – the goats, chickens, ducks, pigs, rabbits, etc. I thought if I didn't have animals, gardens, things fermenting (or molding) in the kitchen then I just wasn't doing it the right way. I'm downsizing my homestead and I'm not ashamed to tell you why.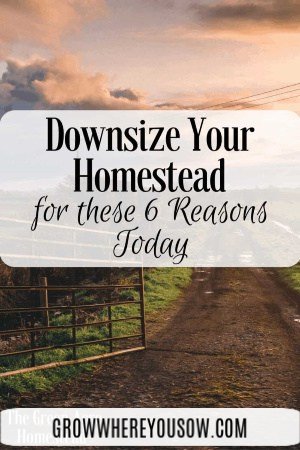 6 reasons to downsize your homestead today.
Homestead burnout is real, and it can really wreak havoc. There's no shame in needing a break or wanting to decrease the size of a flock or herd.
Priorities, goals, wants and needs change
My husband has carried us financially for 4 years as I worked the homestead full-time. When an opportunity came along for me to work from home I was absolutely thrilled. The farm finally at a point where I could spend less time outside.
I was going to be able to lift some of the financial responsibilities off my dear hubby. With this change in my everyday life, it meant I was having to rebalance and reprioritize. What that means is I NEEDED A BREAK FROM SOMETHING.
This is where it all began. I'm not saying I'm done homesteading, but I'm downsizing to explore other interests. All while maintaining my love for homesteading and preventing total burnout.
Doing it alone is hard work
I do a few other things besides homesteading full-time. Aside from running the homestead and this blog, my husband and I are musicians and perform on the weekend. I work from home for a personal finance comparison website (Finder.com), and up until recently I also cleaned an Airbnb a few times a week. Sound insane? YEP.
If you're a frequent visitor to The Green Acre Homestead you know that I mostly homestead alone. That isn't saying that I have NO help, it is just minimal help. We can even call is seasonal, I suppose. Folks, it's hard work doing this alone. I can't imagine being 100% alone while homesteading, although I'd do it if I had to and I'd love every minute of it.
But with all these other things I'd like to explore, and the fact that the homestead falls on me 95%, I decided to downsize for a bit.
Finances matter and so do dreams
As I said, our finances have mainly fallen on Emerson for most of the years we've been homesteading. And, let's be honest, homesteading isn't always cheap and whether we like it or not, money matters.
We don't have kids yet and I have so many different projects I want to try on the farm. Why should I continuing feeding 30+ chickens when I could put that money elsewhere?
Of course, there are ways to conserve money while homesteading, such as fermenting feed or sprouting fodder, but sometimes downsizing is just a better option.
I've cut my feed bill almost in half while downsizing and we're in the process of getting out of debt and building my dream garden space!
Age and experiences
I'm 26 years old and still have non-farm related things I'd like to do and places I'd like to see. This blog is all about honesty and if I'm being honest, it can be hard as hell trying to find someone to take care of a farm with 30+ chickens, 21 rabbits, 12 ducks, 13+ gardens to water, 17 fruit trees and a big fat pig.
I'll always return to farming, but that doesn't mean I'm not allowed a small break now and then.
As I write this, I'm on the way to New York City to visit my baby sister for the weekend. Over the last 2-3 months, we've gone from having all those animals listed above to just 10 chickens, 12 ducks, and 15 rabbits.
I'm young, I don't have children, and I have time to do all the things I would like to do. I'm choosing to take advantage of that now by downsizing my homestead and reigniting my fire. No shame in this young farmer's game.
Taking a break is healthy
Emerson always tells me that taking a break from things is healthy. For a long time, I didn't believe him but he's correct. When you set something down for a while, you start to crave it.
Whenever I go on a trip away from our homestead, I return so motivated to get more done and try new things. My last paycheck job was three years ago. I was just thrilled to get hired on at Finder and continue to be able to homestead and learn about this wonderful lifestyle.
I am 100% that by temporarily downsizing my homestead, it'll leave my super pumped and ready to start again soon – and with fresh new ideas, too!
Homesteading hurts
I hesitated to include this reason, but I promise 100% honesty and transparency here, so I'll say it again. Homesteading hurts. The circle of life isn't always nice and taking an animal's life is never fun.
Additionally, the decision isn't one that is made without thought. I've been on the receiving end of a whole lot of grief more than once for my decision to humanely raise and cull animals, and that's fine because my decisions and morals are mine.
The freezer is full of meat to feed my family and I'm deciding to take a break from butchering. I'd rather eat an animal who lived a wonderful, happy, humane life than one that didn't.
They're your reasons to downsize your homestead
These 6 reasons are my reasons and they're justified completely because, well, I say so. You should never be ashamed to say, "I need a break". I used to be, and it really wore me down – emotionally and mentally.
Homesteading is wonderful for your mental, physical, and emotional health. With saying that, it doesn't mean that it can't be overwhelming at a certain point.
Summary on why you should downsize your homestead
Too much of a good thing isn't always a good thing. It's okay to take a break from incubating chickens single spring or mating rabbits or wanting to decrease the amount of land you're utilizing. I'm going to be focusing more of my energy on learning to be a better gardener.
Are you downsizing your homestead? Or have you decided to downsize in the past? I'd love to hear your story in the comments below!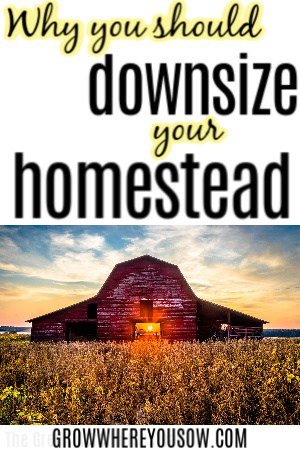 Related to homesteading: