Raising meat chickens is a lot like raising regular chickens. You're actually just raising a regular chicken with the purpose of eating it one day instead of the chicken being a layer their whole life. There are only a few differences and we can talk about them now!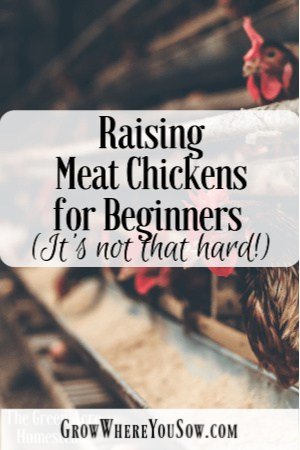 5 main points to know for homesteading beginners about raising meat chickens.
When raising meat chickens, you can raise them to be broilers/fryers or roasters (real terms used by the USDA). In lamens terms, broilers/fryers are usually cooked any way you want and roasters are whole roasted due to their age.
In this guide:
Breed choices
What you need
Feed requirements
Why you should be mindful
Terms to know
Breed choices when raising meat chickens
The stereotypical meat chicken is the Cornish Cross. These are the white chickens that get really fat and almost can't walk. Cornish Crosses are bread to grow rapidly, preventing them from living a "regular chicken life" pecking and scratching and clucking around.
Other common meat birds are Freedom Rangers, Buff Orpingtons, and Jersey Giants. You can read about other meat chickens in this article by Morning Chores.
When I started looking for meat chickens, I knew I didn't want to raise Cornish Crosses because of how abnormally large they get. I wanted a dual purpose chicken that would still be able to function like a regular, healthy hen and roo. I starting raising Dixie Rainbows as my meat chicken and I'll never switch!
Dixie Rainbows are a dual-purpose chicken that lays a sufficient amount of eggs. They grow to be plump and live their lives like a normal chicken while doing it. You can read more about them here.
There are many different types of chickens, some are best raised for meat because of their size and some are better served as layers because of their size. I'd always recommended a dual-purpose chicken.
What you need while raising meat chickens
While raising meat chickens, you need exactly what you need while raising layers or any other type of chicken. Meat chickens are a chicken; a living, breathing animal.
Chickens typically need 2 x 3 square feet of space inside the coop and 8 x 10 outside the coop. If you think about it, the saying "you are what you eat from your head to your feet" is totally true.
If you're giving your laying hens space to roam and forage because you eat their eggs, you should be giving your meat hens the same option because you'll be eating…well, them. Neglecting your chickens and not providing them enough space can cause disease, pecking and stress, even cannibalism.
Make sure they have the space they need, fresh water, and fresh food at all times. Your chickens will also need laying boxes because ALL CHICKENS lay eggs. Read more about what a hen house needs HERE.
Feed requirements
The feed requirements might be the largest difference between raising meat hens and laying hens, and even then, everyone does it differently. I know flock owners who start their meat chickens as chicks and immediately feed them Meat bird Feed.
Some folks start their chicks on the regular Medicated Chick Starter and, once ready, switch them to the Meatbird Pellets.
The way I raise my Dixie Rainbow meat chickens is the exact same way I raise my laying hens. I've never given them Meatbird Feed and, once they're at market age, I'm pleased with the result.
Also, I like to give my chicks Medicated Chick Started because it helps prevent coccidiosis.
As usually when raising animals, you'll need to find out what works best for you and your flock. I choose to give my meat hens room to roam and feed them as I would my laying flock.
Being mindful
Last, you need to be mindful when raising meat chickens. How close are your neighbors? Is it legal for you to have chickens?
Some neighborhoods do not allow roosters, especially neighborhoods that have an HMO. Are you going to butcher the chickens yourself or is there a butcher nearby?
Meat chickens are typically are market weight at somewhere between 7 and 9 weeks to be used as a "broiler". Any older then the chicken is considered a "roaster".
You want to have a plan before your chickens reach market weight so that you're not scrambling to figure out what to do. If you've never butchered a chicken, watch videos or see if there's someone in your area that might help you and teach you how to.
Terms to know when raising meat chickens
Broiler: Meat chickens 6-10 weeks of age
Fryers: Meat chickens 7-10 weeks of age
Roaster: Older Meat chickens about 3-5 months
Market Age: The age and weight when the bird is ready to be butchered
For other chicken terms, check out Tractor Supply's list of Chicken Terms to To Know. Do you raise meat chickens? What kind? I'd love to hear in the comments below!
More on raising meat chickens for beginners: