Dixie Rainbow Chickens: Dual-purpose, backyard breed
I raised Dixie Rainbow Chickens for almost 5 years and my experience was great! Here's the rundown on everything you need to know about this hybrid, rainbow breed chicken, including Dixie Rainbow Chicken pictures.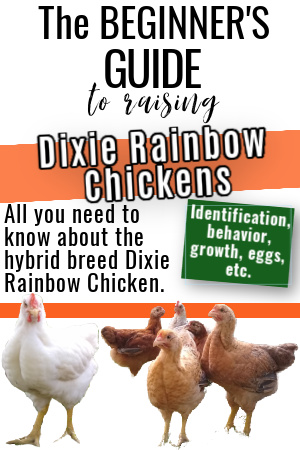 Pin it for later or to show you chicken lovin' friends!
The beginner's guide to dixie rainbow chickens.
I originally learned of Dixie Rainbow by reading on the Backyardchickens.com website about hybrid breed chickens. I knew I wanted a laying flock and a meat flock. But why not maintain a "backup"?
If Dixie Rainbows were as great of a hybrid as I'd read, they would be the best meat chicken for my little homestead at the time. And if they were great layers, like I'd read, then eventually I could just raise that breed.
Well, that's exactly what ended up happening! Choosing a hybrid breed chicken allows you to have the best of both worlds, without having too many chickens running around.
What do Dixie Rainbow Chickens look like? (Identification)
One awesome characteristic of the rainbow dixie chicken is they often look totally different from each other! In fact, they're classified as a "rainbow" because there's no set look to them.
The standard pattern of a Dixie Rainbow is tan/brown and speckles, somewhat like this picture below.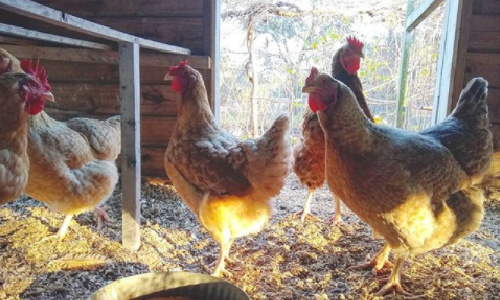 But the beautiful characteristic of Dixie Rainbows is that every now and then you get a wild card. From our last flock, we got 2 brown hens, 2 more standard looking hens, 1 beautiful speckled roo and the head-honcho and first-hatched the snow-white roo!
Some chicks may also have winged eyeliner or a small flick of black stretching from the corner of their eye.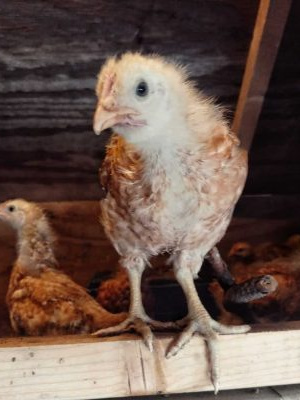 Behavior
These hybrid breed chickens are full of great personalities. Full of life, they'll strut around the yard like they're the best breed there is (they're pretty close to it!).
You'll find the hens are wonderful mothers when they go broody, committing to the brood and hatching their young to success. Watch out, though! A broody hen might give you a good peck if she's a committed mama, which is almost always.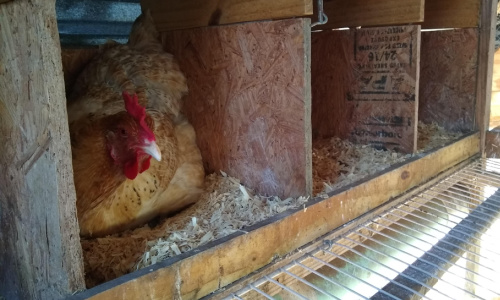 In fact, even when you incubate eggs they prove their resilience. The few eggs that had trouble pipping or zipping have been fighters! It's amazing to watch a little day-old chick decide that today is a day to live, not die. We, of course, assist when appropriate!
I mean, just look at this strong little chick!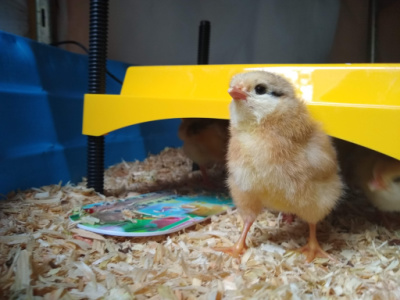 As for the roosters, in my experience, I haven't had an aggressive Dixie Rainbow rooster yet. Large? Yep. You betcha. A little bit slow to learn? Yes, I'll have to admit.
But they're good roosters and you don't have to worry about being attacked. They'll watch over the hens and they're beautiful. I haven't had a bad looking Rainbow Roo' yet!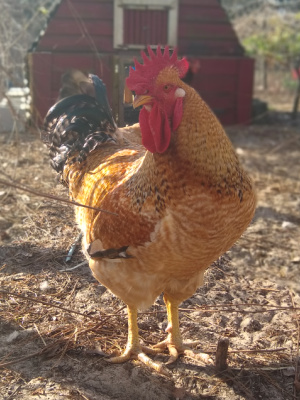 Growth
Since Dixie Rainbows are a dual-purpose breed, they grow insanely fast. If you're raising rainbows as meat birds, you can expect them to reach market weight around 12-13 weeks and will be 6-8 lbs at maturity. BIG BIRD.
At 12-13 weeks your flock will have full combs and wattles and your roosters will start to cock-a-doodle-doo. This is my most recent flock, and yes, they are ALL Dixie Rainbows – full bred. The flock in the photo below are roughly 13 weeks old!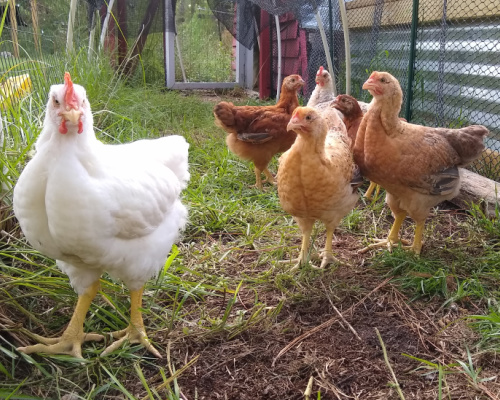 Although I have not raised Cornish Cross chickens, I didn't love what I read about them. Cornish Cross chickens are probably one of the most stereotypical, generic meat chicken. It's what you often find in factory-farmed setups, but I do know smaller homesteaders that choose to raise Cornish Crosses.
The reason I chose against it is that they're bred to grow even more rapidly than the Dixies, meaning at some point they'll likely not even be able to support their own weight.
Cornish Cross chickens are a good breed if you are good at sticking to a schedule. I've also read not to raise them in the summer as they are not heat tolerant birds.
Egg Production
Egg production might be one of the most important characteristics to look at in a chicken for most people. It is absolutely possible to find a breed of chicken that produces both quality meat and provides a plethora of eggs throughout the year. Enter: dual purpose, or "hybrid", chicken breeds *cough…the dixies!*
What color eggs do Dixie Rainbow chickens lay?
The rainbow layer chicken lays a medium-large brown egg. These yummy brown eggs are often more towards the larger size and I've even gotten a few double yolks!
If you'd prefer a flock that lay a variety of eggs, dixie rainbow chickens get along well with other breeds. Try pairing them with great Buff Orpington who are some of the best egg producers. For colored eggs, choose an Easter Egger breed that lay blue eggs! This blue egg layer is a thinner breed so not a great choice for meat.
I've raised Rhode Island Red chickens who are also great layers that lay light chocolate brown fresh eggs. Different breeds bring in a slightly different egg color ranging from the standard white egg, blue eggs to dark brown eggs to the Olive Egger, giving you olive green eggs!
The options are endless, really. No matter if your chickens lay colored eggs or not, they're all the same on the inside regardless of the shell color. Yummy, fresh eggs with rich yellow-orange yolks!
Are rainbow chickens good layers?
On average, Dixie hens are great egg producers, laying around 225-250 eggs a year.
At what age do rainbow chickens start laying eggs?
You can expect these hybrid hens to start laying at the end of the spectrum of 20-24 weeks.
Jersey Giant hens are efficient egg producers and hearty meat chickens. Among the largest breeds, Jersey Giants are a great dual-purpose chicken option for your homestead if you have the space. Barred Rocks and White Rocks are also an acceptable dual-purpose breed of chicken, better suited for a smaller homestead than Jersey Giants.
Are rainbow chickens cold hardy?
I've never had a problem in the winter with my hens not laying. In fact, my flock has always laid its' best in the cooler months. I will say, though, that the summer of 2020 was particularly hot and their laying significantly slowed down.
From my small flock of 7 hens, I usually received 4-5 eggs a week. In the heat of the 2020 summer with constant heat advisories, I was lucky to get 4 eggs a week. This wasn't the norm, though.
I live in Eastern Kentucky now and look forward to raising Dixie Rainbows in this cooler climate, eventually. I anticipate they'll do well as they're large, hardy birds – similar in shape to Barred Rocks or Buff Orpingtons.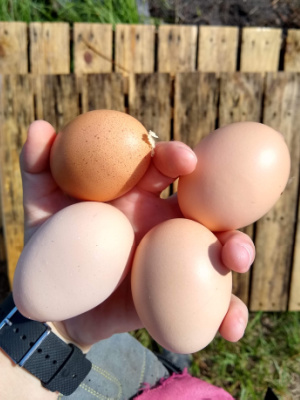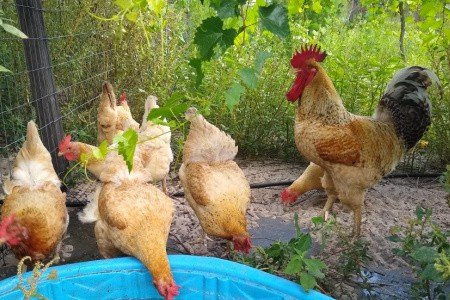 Climate
For folks who live in more southern states, you don't have to expect a bad molt from Dixie Rainbows. Here's a picture of my flock in the winter of 2019. Our winters in Florida are quite mild and I've never experienced a real molt. This year my Dixies molted more than they ever have.
I live in West Central Florida. That means my chickens must be able to endure some intense heat and humidity. My Dixie Rainbow Chickens have done wonderfully in the heat of the summer. Their egg production dropped off slightly, but that's expected.
In the winter of 2021, the temperatures dipped down pretty low here. Although it never got cold enough, for long enough, for me to worry about keeping my chickens warm in winter weather. The Dixies still did great in the low 30's. These chickens are great adjusters!
Where are Dixie Rainbow Chickens for sale?
In 2018 I bought my first flock from The Chick Hatchery, but it looks like they no longer provide Dixie Rainbows at their hatchery. Here's my receipt from my purchase in 2018, although expect prices to have changed given the current economic climate.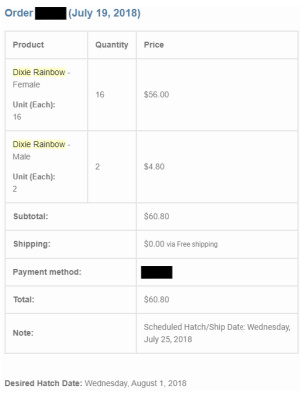 Updated Tuesday, April 25, 2023: Hoover's Hatchery seems to still provide Dixie Rainbow Chickens.
Updated Tuesday, April 25, 2023: Abendroth Hatchery, who I've never ordered livestock through, seems to also provide Dixie Rainbow Chickens.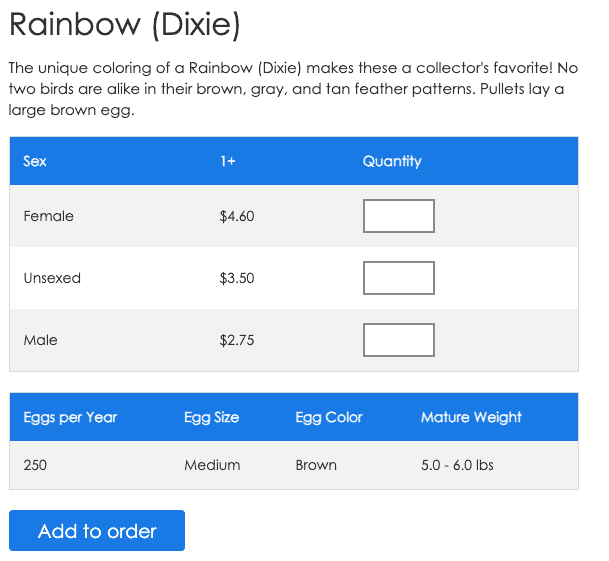 Be sure when you receive your chicks that your brooder is properly set up! If this is your first time raising chicks, I promise it isn't that hard.
Here are a few resources to get you started:
Dixie Rainbow Chickens: Summary
Although there isn't a lot of information on the web about this dual-purpose, hybrid breed chicken I can tell you they've been a joy to raise. You'll get a large bird with an even larger personality.
I raised only purebred Dixie Rainbow right now, maintaining a small layer flock of 5-10 birds at a time and incubating eggs to raise meat birds as needed.
I have plans to maintain laying flocks of Australorps and Orpingtons eventually because they're some of my favorite chicken breeds. They're also both a decent dual-purpose breed of chicken.
But, there you have it. Everything you need to know about Dixie Rainbow Chickens! Let me know if I can answer any questions. Until then, happy homesteading folks!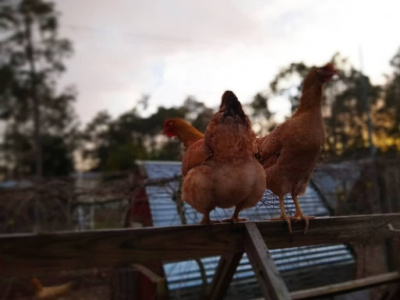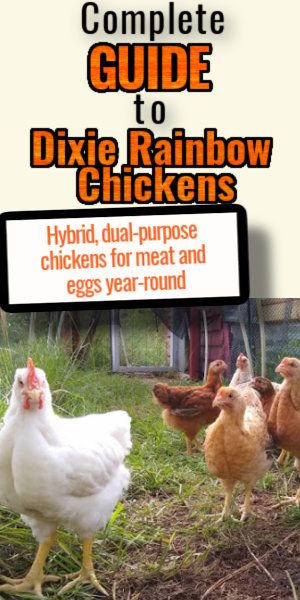 Related to backyard chickens: